Steve King Becomes 1st Iowa US Rep to Lose Renomination in 72 Years
King's loss ends a string of 196 consecutive renomination victories by incumbent lawmakers in the state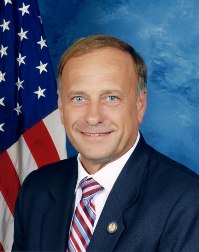 Iowa Republicans made a strong play to take out fellow GOP U.S. Representative Steve King back in 2016 when state Senator Rick Bertrand challenged the controversial lawmaker and won 35.3 percent of the primary vote.
But King's near yielding of the solidly Republican district in 2018's general election to Democratic nominee J.D. Scholten (a 3.3-point win) and subsequent loss of committee assignments in January 2019 emboldened establishment party members to take him on again in 2020.
The congressman's luck finally ran out in Tuesday's primary when state Senator Randy Feenstra defeated King by nearly 10 points in a five-candidate field.
Feenstra won 45.6 percent of the primary vote with King receiving 35.9 percent and former state Representative Jeremy Taylor in a distant third with 7.8 percent.
King's primary loss ends a string of 196 consecutive successful renomination attempts by Iowa U.S. Representatives dating all the way back to 1950.
Prior to King, the last incumbent in Iowa to lose a primary for a U.S. House seat was seven-term Republican John Gwynne 72 years ago in 1948.
Gwynne was first elected to the chamber in 1934 when he ousted Democratic freshman Albert Willford by 8.4 points in a cycle where Republicans lost 14 seats nationally.
Gwynne was challenged by journalist Harold Gross in the 1948 3rd CD GOP primary and lost by 11.4 points.
Since Gwynne's loss, Iowa U.S. Representatives had rattled off 196 primary wins in a row with 16 other primaries held for open seats heading into the 2020 cycle.
GOP incumbents had won 135 consecutive renomination bids during this seven-decade span since Gwynne's loss while Democratic congressmen had claimed 61 wins in a row.
On Tuesday, freshman Democrats Abby Finkenauer of the 1st CD and Cyndi Axne of the 3rd CD won their primaries without opposition. Fellow party member Dave Loebsack of the 2nd CD is retiring at the end of this term.
In total, Democratic U.S. Representatives from the Hawkeye State have now won 82 consecutive primaries dating back more than a century to 1916.
The last Democrat to lose a renomination bid was freshman Sanford Kirkpatrick in 1914.
Kirkpatrick, a Civil War veteran and former long serving Internal Revenue Service agent, lost his 6th CD nomination bid that cycle to W.H. Hamilton of Sigourney by 6.4 points.
Of course, with King's loss the odds of a Democratic pick-up in the 4th CD drop precipitously. J.D. Scholten won renomination on Tuesday without opposition and now faces a higher hurdle with the more mainstream Republican Feenstra on the general election ballot.
Follow Smart Politics on Twitter.