Democrats Eye Largest Western US Senate Delegation in 55 Years
A pair of pick-ups would bring the party a decisive 17-9 majority in the Western states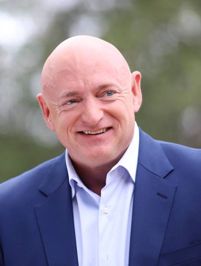 While several economic variables and public opinion data suggest Democrats could have a big election cycle this year, the party is still unsure what kind of hand they will have to play come November.
As things currently stand, the party has good odds to pick up two (and net at least one) U.S. Senate seat.
Multiple seats in play are in the West where Democrats landed three A-list (two presumptive) nominees against vulnerable first-term senators: retired astronaut Mark Kelly (pictured) is challenging appointed Arizona Senator Martha McSally, former Colorado Governor John Hickenlooper is looking to unseat Republican Mark Gardener, and Montana Governor Steve Bullock will face Senator Steve Daines.
If Democrats pick up just two of these seats, the party will control 17 of the 26 seats in the West – their strongest hold on the 13-state region in more than half a century.
The last time Democrats held that many seats was during the 89th Congress from 1965-1966. Democrats held both seats in Alaska, Montana, New Mexico, Nevada, Oregon, and Washington and one seat in Arizona, Hawaii, Idaho, Utah, and Wyoming.
The Election of 1966 ended a string of eight consecutive years (1959-1966) during which the party controlled between 17 and 20 seats in the West after Republican Mark Hatfield flipped a seat in Oregon.
Ever since, Democrats have averaged just 12.1 seats in the region, or slightly less than half, with a low water mark of eight seats from 1984-1986.
Democrats currently hold both U.S. Senate seats in California, Hawaii, New Mexico, Nevada, Oregon, and Washington with one each in Arizona, Colorado, and Montana.
If Democrats flip seats in Arizona and Colorado this November, it will be the first time the party has controlled all four seats in those two Western states since December 1941 when Carl Hayden, Ernest McFarland, Alva Adams, and Edwin Johnson served these states respectively.
Interestingly, Arizona, California, Colorado, New Mexico, and Nevada have never simultaneously sent all-Democratic delegations to the U.S. Senate.
The highest percentage of Democratic U.S. Senators from the West during the direct election era took place during the 75th Congress in 1938 when 19 of 22 seats were in the party's hands (86.4 percent) – following the appointment of Oregon's Alfred Reames to the chamber to fill the vacancy after the resignation of Republican Frederick Steiwer.
If Democrats flip seats in Arizona, Colorado, and Montana in 2020, they would control 18 seats which would be a high water mark for the party since the 87th Congress (1961-1962) when the party had power over 20 Western seats for the second consecutive cycle.
Also on Western ballots in 2020 are safe Republican seats in Alaska (Dan Sullivan), Idaho (Jim Risch), and Wyoming (retiring Mike Enzi's open seat) plus safe Democratic seats in New Mexico (retiring Tom Udall's open seat) and Oregon (Jeff Merkley).
Follow Smart Politics on Twitter.