The Historic Democratic Debacle in Arkansas' 2020 US Senate Race
Arkansas is now the fifth state in history in which each major party has not fielded a U.S. Senate nominee at least once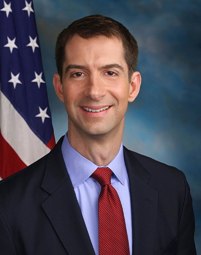 There will certainly be plenty of competitive matchups between Republican and Democratic nominees in federal elections this November.
But there assuredly won't be one in Arkansas' U.S. Senate contest – where Democrats are without a nominee.
Only one Democrat met the filing deadline for the office late last year – 2018 3rd CD nominee Josh Mahony – but Mahony dropped out in November and the party was left without any legal means to replace him on the ballot.
As a result, first-term Republican Tom Cotton will only face opposition from Libertarian nominee Ricky Harrington and independent Dan Whitfield.
The absence of a Democratic nominee in Arkansas' U.S. Senate race is notable for multiple reasons.
For starters, this marks the first time a Democratic nominee will not appear on a general or special election ballot for the office in state history. [It is also the only state currently slated to have only one major party candidate among the 35 elections held this cycle].
Arkansas thus becomes the 16th state to join this club along with Alabama, Arizona, California, Indiana, Iowa, Kansas, Minnesota, Mississippi, North Dakota, Oregon, Pennsylvania, South Dakota, Vermont, Virginia, and Wisconsin.
Secondly, Arkansas is now just the fifth state in which each major party has failed to land a candidate on the general election ballot at least once since 1914.
Alabama, California, Mississippi, and Virginia are the other states comprising that list.
A third interesting facet illustrates how quickly the partisan tides have turned in Arkansas.
Just 12 years ago, it was the Republican Party who did not have a nominee in the state's U.S. Senate race when Democratic U.S. Senator Mark Pryor ran for a second term in 2008.
Pryor had won his seat by single digits when he unseated incumbent Tim Hutchinson by 7.8 points in 2002. Six years later, Senator Pryor only had to contend with Green Party nominee Rebekah Kennedy.
This 12-year gap with different major parties failing to appear on the November ballot is the quickest in U.S. history.
In Alabama, there was a 36-year gap between the 1978 general election in which Democratic U.S. Senator Howell Heflin faced only a Prohibitionist and Republican Senator Jeff Session's 2014 reelection bid in which he ran unopposed.
In Mississippi, there was a 14-year gap between Democrat John Stennis winning his sixth term without opposition in 1976 and Republican Thad Cochran getting reelected to a third term without an opponent in 1990.
In Virginia, there was also a 14-year gap between independent U.S. Senator Harry Byrd, Jr.'s victory for a third term in 1976 against a Democratic nominee (Elmo Zumwalt) and an independent Republican (Martin Perper) and Republican U.S. Senator John Warner's third term victory against only an independent (and Lyndon LaRouche adherent) Nancy Spannaus.
In California, there was a 64-year gap between the last time Democrats did not field a candidate in 1952 (against Senator William Knowland) and the 2016 cycle during which all Republicans were eliminated in the top-two primary.
[It should be noted that in California's 1946 special election all votes cast were write-ins, and thus there technically was no Republican or Democratic nominee on the ballot in that race. However, there were nominees for the GOP (appointed Senator Knowland) and Democrats (former U.S. Representative Will Rogers, Jr.) in 1946's general election held that same day. Knowland and Rogers were also the top two write-in vote-getters for the special.]
The Democratic debacle in Arkansas in 2020 is already the 12th time Democrats have not had a candidate on the U.S. Senate general election ballot in the 21st Century joining Arizona in 2000 (against Jon Kyl), Kansas in 2002 (Pat Roberts) and 2014 (Roberts), Mississippi in 2002 (Thad Cochran), Virginia in 2002 (John Warner), Indiana in 2006 (Dick Lugar), Vermont in 2006, 2012, and 2018 (independent Bernie Sanders, who caucuses with the Democrats), South Dakota in 2010 (John Thune), and Alabama in 2014 (Jeff Sessions).
By contrast, Republicans have failed to do so just four times: Massachusetts in 2002 (John Kerry), Arkansas in 2008 (Mark Pryor), and California in 2016 (Kamala Harris and Loretta Sanchez) and 2018 (Dianne Feinstein and Kevin de Leon).
Interestingly, Arkansas Democrats also made history in 2014 when Mark Pryor became the first U.S. Senator (out of 89 elections) to lose a general election coming off a victory in which there was no major party opponent on the ballot.
Follow Smart Politics on Twitter.