Mariannette Miller-Meeks and a Brief History of Retread Iowa U.S. House Nominees
The state senator is just the third three-time loser of a U.S. House election in Iowa to be nominated for a fourth time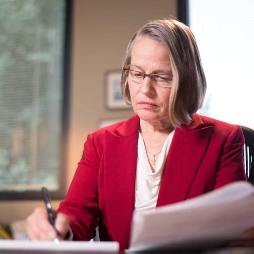 Last week Monmouth University released general election matchup polling for each of Iowa's four congressional districts. The results of which showed Democratic incumbents Abby Finkenauer and Cindy Axne with fairly comfortable leads in the 1st and 3rd CDs respectively and Republican state Senator Randy Feenstra with a large advantage in outgoing Rep. Steve King's 4th CD.
Retiring Rep. Dave Loebsack's 2nd CD, however, showed a very close race with Republican state Senator Mariannette Miller-Meeks leading former Democratic state Senator Rita Hart by three points.
This is the fourth time Miller-Meeks has been named the GOP nominee for the district after losses to Loebsack in 2008 (by 18.2 points), 2010 (5.1 points), and 2014 (4.9 points).
And so this cycle Miller-Meeks has the honor of becoming just the third Iowan in state history to get a fourth chance at a U.S. House seat by a major political party.
As a rule, retread candidates have not fared well in Iowa over the decades with the last failed nominee to win a U.S. House seat for the first time coming more than 40 years ago.
Republican Jim Leach followed up his 8.7-point loss to Democratic Congressman Edward Mezvinsky in 1974 with a 4.1-point win in a rematch that knocked his opponent out of office two years later.
Since then, more than a dozen retread nominees have been defeated in second and third attempts on the general election ballot including several since 2000:
Democrat Donna Smith (2nd CD): losing in 1996 and 2000
Republican Stan Thompson (3rd CD): 2002 and 2004
Democrat Bill Gluba (1st CD): 1982, 1988, and 2004
Democrat Joyce Schulte (5th CD): 2004 and 2006
Republican Mariannette Miller-Meeks (2nd CD): 2008, 2010, 2014
Republican Ben Lange (1st CD): 2010 and 2012
Democrat Jim Mowrer (4th and 3rd CDs): 2014 and 2016
Republican Christopher Peters (2nd CD): 2016 and 2018
As mentioned above, J.D. Scholten is also reprising his role as the Democratic nominee in the 4th CD this cycle and faces extremely slim odds with the controversial Rep. King defeated in June's GOP primary.
Overall, of the more than 670 contests for the chamber in Iowa history, 95 have featured a major party nominee making his or her second, third, or even fourth attempt to win their first ever congressional seat, or about one such candidate out of every seven races.
Of these 95 bids, however, just 17 were successful, or 17.9 percent. Sixteen of 83 second attempts were successful, with none of the 10 third attempts, and one out of two fourth attempts.
In addition to Miller-Meeks and the aforementioned Gluba, the other eight Iowa U.S. House nominees who struck out during each of their first three times on the general election ballot are:
Democrat William Leffingwell (2nd CD): 1858, 1868, and 1870
Democrat Anthony Van Wagenen (11th CD): 1894, 1912 (special), and 1912 (general)
Democrat James Murtagh (3rd CD): 1906, 1914, and 1916
Democrat Clair Williams (1st CD): 1944, 1946, and 1952
Democrat Steven Carter (4th CD): 1948, 1950, and 1956
Republican Don Mahon (5th CD): 1966, 1968, and 1970
Republican Tom Riley (2nd CD): 1968, 1974, and 1976
Democrat Eric Tabor (2nd CD): 1986, 1988, and 1990
Leffingwell also lost on his fourth attempt running under the Democratic banner in the 2nd CD in 1872.
Carter unsuccessfully contested his 1.4-point loss to Karl Le Compte in 1956 but would then receive his fourth nomination by the Democrats in 1958.
Carter won that 4th CD race against John Kyl by 4.0 points. However, the freshman's tenure at the Capitol was short-lived as he would die after just 10 months in office in November 1959.
It should be noted that Miller-Meeks' strong showings in 2010 and 2014 came during cycles with a decided national GOP tilt with the party netting 63 and 13 seats across the country respectively.
And so, if Donald Trump underperforms at the top of the ticket in Iowa this November vis-à-vis his 9.4-point statewide victory in 2016, will Miller-Meeks be able to join Carter on that rare political pathway and finally get off the schneid?
Follow Smart Politics on Twitter.