Will Merkley Deliver the Biggest Democratic US Senate Win in Oregon History?
The stars are nearly aligned to guarantee the incumbent the best showing for the party in an Oregon U.S. Senate contest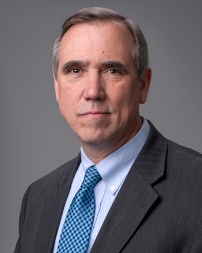 The seat of two-term Oregon U.S. Senator Jeff Merkley was never considered to be competitive this cycle, and so when controversial GOP candidate Jo Rae Perkins won a plurality victory in last May's primary the only question that remained was how big of a victory will Merkley claim on Election Day?
Perkins, an insurance agent, is not a political newcomer and has some political bonafides: she is the former chair of the Linn County Republican Party and was a candidate in the Republican primaries for U.S. Senate in 2014 and in Oregon's 4th CD in 2016 and 2018 (which she lost by wide margins).
But Perkins' public support of QAnon this cycle has relegated her to fringe candidate status in the media, and there has been little public interest in (or polling of) the Oregon race other than referencing Perkins (and fellow QAnon adherent and GA-14 nominee Marjorie Taylor Greene) as examples of the fringe gaining footholds in the Republican Party.
While it is clear that Greene will easily carry her congressional district in Georgia – one of the most solidly Republican districts in the country with Democrats not fielding a nominee in 2014 and 2016 and failing to reach 30 percent in 2012 and 2018 – it is not known how much her association with QAnon will dampen Republican support in her race.
Likewise, Merkley is looking to turn what would have been a 15- to 20-point victory against a traditional GOP nominee into perhaps the biggest blowout win for the party in Oregon U.S. Senate electoral history.
Democrats have won just 15 of 44 elections (or popular preference votes) in Oregon since 1906 with five of those victories taking place during the last five cycles since 2004.
Merkley and Ron Wyden, the state's senior U.S. Senator, are the only Oregon Democrats who have notched double-digit victories for the office.
Wyden has done so four times: in 1998 (by 27.3 points over John Lim), 2004 (31.6 points over Al King), 2010 (17.9 points over Jim Huffman), and 2016 (23.2 points over Mark Callahan).
Senator Merkley, meanwhile, won a second term by a comfortable 18.8-points against physician Monica Wehby in 2014.
Wyden's 31.6-point blowout win in 2004 is thus the mark to beat for Merkley – and it is a distinct possibility given that the top of the ticket should be much rosier for the Democrats with Biden against Trump in 2020 compared to 2004 when John Kerry defeated President George W. Bush by a fairly narrow 4.2-point margin in the state.
With Oregon seemingly becoming a deeper shade of blue each cycle and Republicans nominating a bit of an ideological outlier, the recipe is in place for Merkley to easily win by 25+ points.
Oregon Democrats are currently in the midst of their longest winning streaks for governor (10 – largest for the party in the nation) and president (eight – tied for second) and are poised to set a state party record for U.S. Senate in November (Democrats also won five in a row in the state from 1954 through 1962).
Perhaps the only variables that could blunt Merkley from racking up a historically gaudy victory margin in 2020 is 1) how the well-publicized violence in Portland impacts partisan voting up and down the ballot in the state and 2) how many liberals choose to back Green Party nominee Ibrahim Taher, a third option on the ballot in the U.S. Senate race.
The largest general election victory by any nominee for U.S. Senate in Oregon history was set by former GOP Senator Fred Mulkey in 1918's special election. With no Democrat on the ballot, Mulkey defeated Socialist Martha Bean by 69.0 points.
The biggest margin of victory in a race with two major party nominees occurred in 1942 when Senator Charles McNary won election to a fifth full term by 54.2 points against Democratic Portland attorney Walter Whitbeck.
Follow Smart Politics on Twitter.