The Closest Presidential Elections in All 50 States
Will a Biden-Trump nail-biter cause a state record to fall in 2020?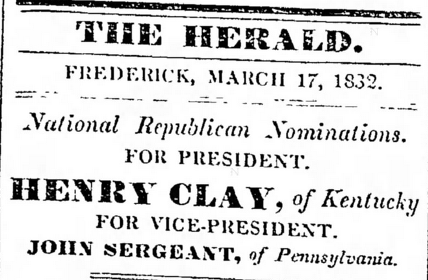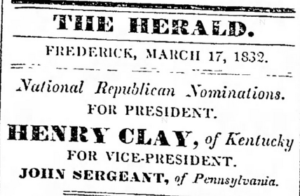 Whether the presidential election ultimately tilts toward Joe Biden or Donald Trump, there is a very good chance there will be a few very narrowly decided states this November.
Four states were decided by less than a percentage point in the 2016 presidential election – Michigan, New Hampshire, Pennsylvania, and Wisconsin – although only Michigan set a state record in those respective states (at 0.22 points, breaking the 0.33-point margin in 1940 when Wendell Willkie defeated Franklin Roosevelt).
Two cycles prior, in 2008, John McCain's 2.38-point win over Barack Obama in Montana and Obama's 0.33-point victory in North Carolina were the most recent states to see records broken.
The cycles with the largest standing records for the most competitive state presidential elections are 1912 and 2000 with four each.
In 1912, the nail-biters in three Western states and Vermont have never been matched:
California: Progressive Teddy Roosevelt defeated Democrat Woodrow Wilson by 0.03 points
Idaho: Wilson defeated Republican incumbent William Taft by 1.05 points
Wyoming: Wilson beat Taft by 1.77 points
Vermont: Taft defeated Roosevelt by 1.91 points
In 2000, George W. Bush famously carried Florida by 0.01 points while Al Gore won New Mexico by 0.06 points, Wisconsin by 0.22 points, and Iowa by 0.31 points.
The Florida race (precisely, a 0.009-point margin) is the most narrowly decided presidential election in U.S. history, just besting Henry Clay's four-vote win over Andrew Jackson in Maryland in 1832 (0.010 points).
Overall, the closest presidential election currently stands at less than one point in 34 states including less than one-tenth of a point in nine states: California, Florida, Hawaii, Kentucky,  Maryland, Missouri, New Hampshire, New Mexico, and Virginia.
In addition to the aforementioned Montana, two other states (and, of course, the District of Columbia) have never had a presidential race decided by less than two points: Louisiana and Utah).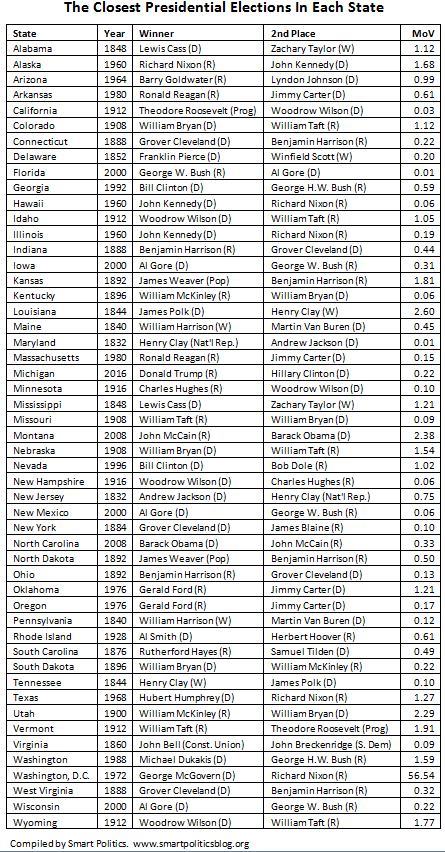 Four cycles produced three state records that still stand today: 1888 (Connecticut, Indiana, West Virginia), 1892 (Kansas, North Dakota, Ohio), 1908 (Colorado, Missouri, Nebraska), and 1960 (Alaska, Hawaii, Illinois).
Follow Smart Politics on Twitter.