How Many States Will Split Their Presidential and US Senate Vote in 2020?
The 2016 cycle was the first time in history in which no state split its vote for these two offices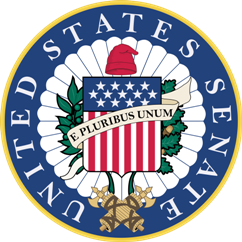 Among the various noteworthy aspects of the 2016 election was the fact that it marked the first time in U.S. history in which no state split its vote for the offices of president and U.S. Senator across the 26 cycles during which both offices have been on the ballot since the direct election of U.S. Senators began in 1913.
From 1916 through 2012, an average of 29.3 percent of states voted for nominees of different political parties for president and U.S. Senate (250 of 853).
In all but two of these 26 cycles, no fewer than one in six states split their tickets in this manner. [Prior to 2016, the low points were 1920 at 3.2 percent (1 of 32 states) and 1924 at 9.4 percent (3 of 32)].
But in 2016, there was no such split ticket voting in any of the 34 states holding elections to the nation's upper legislative chamber.
Peak split ticket voting in this country took place in 1968 (52.9 percent) with a majority of states also collectively splitting their vote in 1972 (51.5 percent), 1984 (51.5 percent), and 1988 (51.5 percent).
In more recent cycles, from 2000 through 2012, nearly one in four states on average split their vote for president and U.S. Senator:
2000 – 10 of 34 states (29.4 percent): Florida, Georgia, Maine, Missouri, Nebraska, North Dakota, Pennsylvania, Rhode Island, Vermont, West Virginia
2004 – 7 of 34 (20.6 percent): Arkansas, Colorado, Indiana, Nevada, New Hampshire, North Dakota, Pennsylvania
2008 – 7 of 35 (20.0 percent): Alaska, Arkansas, Louisiana, Maine, Montana, South Dakota, West Virginia
2012 – 8 of 33 (24.2 percent): Indiana, Maine, Missouri, Montana, Nevada, North Dakota, Vermont, West Virginia (Maine and Vermont elected independents to the Senate)
It is extremely unlikely that the 2020 cycle will replicate the historic outcome of 2016 in view of multiple opportunities for split ticket voting across the country.
A handful of states could see their Electoral College votes cast for Donald Trump whilst backing the Democratic U.S. Senate nominee: Alaska (independent/Democrat Al Gross), Kansas (Barbara Bollier), Montana (Steve Bullock), and South Carolina (Jaime Harrison).
The Kansas development – in a race to fill retiring Pat Robert's seat – is quite remarkable as it is the only state never to have backed a Democratic U.S. Senate nominee while voting GOP for president. [Kansas also has the longest GOP U.S. Senate winning streak in the nation at 31 in a row].
Montana, in fact, already leads the nation by splitting its vote 10 times in this fashion out of 18 opportunities (55.6 percent).
Meanwhile, the outcome of both the presidential and U.S. Senate elections are in flux in states like Georgia, Iowa, and North Carolina (and, at the margins, perhaps Michigan). As such, there could be split ticket scenarios going either way (or not at all) in each of these states.
Additionally, split ticket voting in states like Arizona, Colorado, and Maine where GOP U.S. Senators are on the brink of getting ousted is possible, but not strong.
The 2016 cycle was just the second time in history that no state backed a Democrat for president and a Republican for U.S. Senate (along with 1956).
There have been four cycles during which no states supported both the Republican presidential nominee and Democratic U.S. Senate nominee (1920, 1936, 1940, 2016).
Follow Smart Politics on Twitter.