The 2020 cycle will likely see the largest number of first-term U.S. Senators go down in defeat in more than 35 years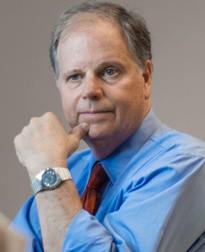 There is expected to be a significant amount of turnover in the U.S. Senate at the convening of the 117th Congress – beyond the four seats with retiring members (in Kansas, New Mexico, Tennessee, and Wyoming).
Part of the reason for this turnover is the unusually large number of first-term incumbents who are on the ballot this cycle.
All told, there are 17 first-term U.S. Senators running for another term – nearly half of the 35 contests conducted nationwide and the largest number seen over the last 18 cycles since the Election of 1986.
That tally includes three Democrats (Doug Jones of Alabama (pictured), Gary Peters of Michigan, and Tina Smith of Minnesota) and 14 Republicans (Alaska's Dan Sullivan, Arizona's Martha McSally, Arkansas' Tom Cotton, Colorado's Cory Gardner, Georgia's David Perdue and Kelly Loeffler, Iowa's Joni Ernst, Louisiana's Bill Cassidy, Mississippi's Cindy Hyde-Smith, Montana's Steve Daines, Nebraska's Ben Sasse, North Carolina's Thom Tillis, South Dakota's Mike Rounds, and West Virginia's Shelley Moore Capito).
Over half of these 17 senators are considered vulnerable.
Senators Jones, Gardner, and McSally are expected to lose their seats with Senators Ernst and Tillis locked in very tight races.
Meanwhile, Senators Daines, Loeffler, Perdue, Peters, and Sullivan are only slightly favored in their contests.
In 1986, there were 18 first-term U.S. Senators running for another term, due in part to the high turnover seen in the 1980 cycle six years prior when the GOP flipped a dozen seats. There were 16 Republicans (Jeremiah Denton (AL), Frank Murkowski (AK), Paula Hawkins (FL), Mack Mattingly (GA), Steve Symms (ID), Dan Quayle (IN), Chuck Grassley (IA), Jim Broyhill (NC), Warren Rudman (NH), Al D'Amato (NY), Mark Andrews (ND), Don Nickles (OK), Arlen Specter (PA), James Abdnor (SD), Slade Gorton (WA), and Bob Kasten (WI)) and two Democrats (Chris Dodd (CT) and Alan Dixon (IL)).
Seven of these senators went down in defeat: Abdnour, Andrews, Broyhill, Denton, Gorton, Hawkins, and Mattingly.
Since 1986, no more than three first-term senators have been defeated in a single cycle – a feat that has happened four times: in 2000 (Spencer Abraham, John Ashcroft, Rod Grams), 2002 (Jean Carnahan, Max Cleland, Tim Hutchinson), 2008 (Elizabeth Dole, John Sununu, Norm Coleman), and 2014 (Mark Begich, Kay Hagan, Mark Udall).
An average of 10 senators in their first term have been on the ballot from 1988 through 2018.
There have been only four cycles during the direct election era in which no first-term U.S. Senators were defeated: 1960, 1990, 2004, and 2010. However, none of those cycles saw more than eight such senators on the ballot.
Follow Smart Politics on Twitter.