Minnesota's US Senate Election At a Glance
Only six other U.S. Senate contests were more closely decided in Gopher State history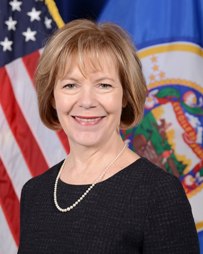 Senator Tina Smith's victory over former congressman Jason Lewis on Tuesday may not have been a nail-biter, but it continued Minnesota's reputation as one of the most reliably competitive states in elections to the office across the nation.
Smith's unofficial margin of victory is 5.2 points, which is good for the seventh closest U.S. Senate race in state history out of 42 contests.
Over the last 30 years, Minnesota ranks seventh in the nation with an average victory margin in U.S. Senate races of 10.8 points across a dozen races during that span.
Six of those 12 elections since 1990 were decided by fewer than six points.
The only states serving up even more consistently competitive races are North Carolina (5.7  points since 1990), Colorado (8.5), Missouri (8.8), Nevada (9.1), Pennsylvania (9.3), and New Jersey (10.5).
Minnesota's closest U.S. Senate race in history is of course Al Franken's 0.01-point win (312 votes) over Republican Senator Norm Coleman in 2008.
The only other five races decided by a closer margin than 2020's Lewis vs. Smith matchup were:
Minnesota Democrats have now won seven consecutive U.S. Senate elections since Coleman's plurality win over Mondale in 2002.
That is the second longest DFL winning streak for the office – one shy of tying the mark set from 1954 through 1976 when Hubert Humphrey (1954, 1960, 1970, 1976), Eugene McCarthy (1958, 1964), and Walter Mondale (1966, 1972) ran the table in eight consecutive races across two decades.
The 7.8 percent of the vote cast for non-Republican and DFL candidates in Tuesday's election is the most since 2008 when Independence nominee Dean Barkley received 15.2 percent of the 16.0 percent won by third parties.
Follow Smart Politics on Twitter.