Biden Breaks Democratic Party Records in 4 States
The former VP also turned in the best showing by any Democratic nominee since LBJ in nine states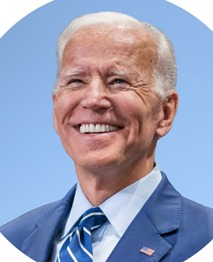 Although Joe Biden was criticized for not being the most inspiring candidate for many Democratic voters – particularly those populating the progressive wing of the party – the former vice president nonetheless left a pretty sizable footprint at the ballot box in several states.
With election results now certified in all states, Biden ended up recording the best showing among any Democratic challenger or nominee in an open seat contest in party history in four states.
Biden set new party records for a non-incumbent Democratic presidential nominee in California, Massachusetts, New Jersey, and Washington.
In California, Biden's 63.5 percent eclipsed Hillary Clinton's previous record-setting performance of 61.7 percent in 2016.
Along with Barack Obama in 2008 (61.0 percent), each of the last three non-incumbent Democratic nominees have set new records for the party in the increasingly blue Golden State.
In Massachusetts, Biden won 65.6 percent of the vote which bests a record of 63.1 percent held by Hubert Humphrey since 1968.
Biden's performance in the Bay State is the second best by any Democratic nominee in party history – incumbent or otherwise – behind only President Lyndon Johnson's 76.2 percent in 1964.
In New Jersey, Biden received 57.33 percent of the vote – just edging out Barack Obama's 57.27 percent in the 2008 cycle. Obama had taken the record set by Al Gore eight years prior in 2000 (56.1 percent).
Finally, Biden carried  Washington with 58.0 percent of the vote – slightly better than Obama's 57.7 percent in 2008.
Also of note: Biden received a larger percentage of the vote than any non-incumbent Democrat in 80+ years in these states: Maryland (1868), Colorado (1900), Arizona (1932), and Virginia (1932).
Looking at more recent electoral history, Biden also turned in the best showing among any Democratic presidential nominee since Lyndon Johnson – incumbent or challenger – in nine states:
Alaska (42.8 percent): Best since LBJ in 1964 (65.9 percent)
Arizona (49.4 percent): LBJ, 1964 (49.5 percent)
California (63.5 percent): Franklin Roosevelt, 1936 (67.0 percent)
Colorado (55.4 percent): LBJ, 1964 (61.3 percent)
Maryland (65.4 percent): LBJ, 1964 (65.5 percent)
Massachusetts (65.6 percent): LBJ, 1964 (76.2 percent)
Utah (37.7 percent): LBJ, 1964 (54.7 percent)
Virginia (54.1 percent): Franklin Roosevelt, 1944 (62.4 percent)
Washington (58.0 percent): LBJ, 1964 (62.0 percent)
It should also be noted that Donald Trump set a new record on the Republican side in one state during the 2020 cycle.
In West Virginia, Trump received 68.6 percent of the vote – besting his own mark of 68.5 percent set in 2016. Prior to that, Abraham Lincoln held the West Virginia GOP record for 152 years with the 68.2 percent he won in the state's first presidential election in 1864.
Follow Smart Politics on Twitter.