Trump 1st President Since Carter to Win Majority of Gubernatorial Elections
Only seven of 21 presidents since William McKinley saw their party win a majority of elections for governor during their presidency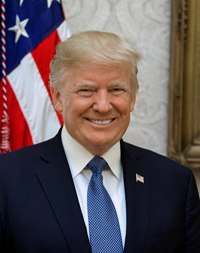 The short-term electoral scorecard of Donald Trump's presidency includes his party losing control of the U.S. House of Representatives in 2018, the U.S. Senate in 2020, and, of course, the presidency itself last November.
But Trump was able to accomplish a feat that eluded the vast majority of his 20th and 21st Century predecessors: over the course of his four years in office, a majority of gubernatorial elections were won by his party.
Since Trump was inaugurated in January 2017, Republicans were victorious in 28 of the 52 elections for governor conducted while he was in office, or 53.8 percent.
While that may not seem like an impressive tally, it is better than all but six of the 20 other presidents to serve in the White House dating to the turn of the 20th Century with William McKinley.
It is also a better track record than each of the five presidents to serve before Trump from Ronald Reagan through Barack Obama. The president's party won only 196 of the 477 elections for governor from 1981 through 2016, or 41.1 percent.
Republicans were victorious in 64 of 107 elections under Reagan (40.2 percent), 20 of 53 under George H.W. Bush (37.7 percent), and 53 of 105 under George W. Bush (49.5 percent) while Democrats won 40 of 104 under Bill Clinton (38.5 percent) and 41 of 108 under Obama (38.0 percent).
Democrats did make notable gubernatorial inroads during Trump's presidency, however, flipping nine seats: New Jersey in 2017, Illinois, Kansas, Maine, Michigan, Nevada, New Mexico, and Wisconsin in 2018, and Kentucky in 2019.
The GOP, meanwhile, picked up three states during Trump's term: West Virginia in 2017 (after Democrat Jim Justice switched his party affiliation to the GOP; Justice would later win reelection in 2020), Alaska in 2018, and Montana in 2020.
Republicans held the governorships in 24 other states with Trump in office: Alabama, Arizona, Arkansas, Florida, Georgia, Idaho, Indiana, Iowa, Maryland, Massachusetts, Mississippi, Missouri, Nebraska, New Hampshire, North Dakota, Ohio, Oklahoma, South Carolina, South Dakota, Tennessee, Texas, Utah, Vermont, and Wyoming.
The six presidents who have served since the 20th Century whose party had a better track record than Trump of winning elections for governor during their administration were John Kennedy (64.1 percent), Teddy Roosevelt (60.5 percent), William McKinley (59.5 percent), Calvin Coolidge (59.3 percent), Franklin Roosevelt (58.4 percent), and Jimmy Carter (55.6 percent).
Those faring the worst are Gerald Ford (23.1 percent), Herbert Hoover (24.7 percent), Dwight Eisenhower (36.8 percent), George H.W. Bush (37.7 percent), and Barack Obama (38.0 percent).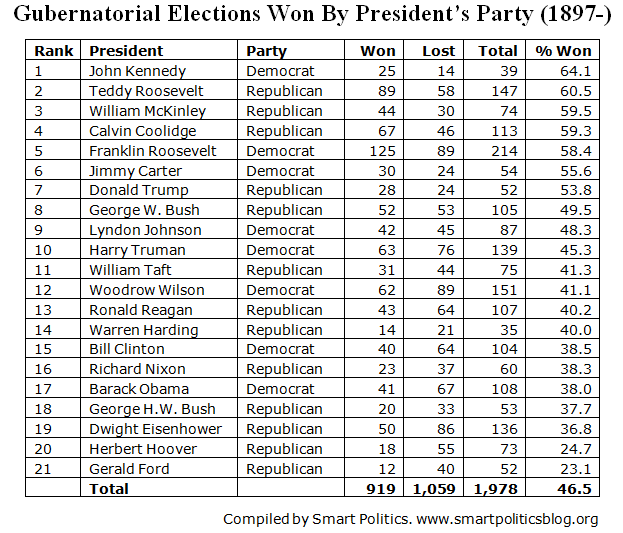 Joe Biden's first test by this measure will occur in November of this year when New Jersey and Virginia hold their next elections for governor.
Follow Smart Politics on Twitter.