Ilhan Omar Records Worst Minnesota US Rep Showing Vis-à-Vis Top of the Ticket in a Generation
Omar ran 15.7 points behind Biden in her district – more than twice the deficit of any other Gopher State U.S. Representative since (at least) the 2000 cycle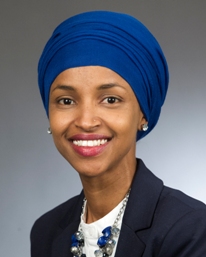 Although Minnesota's highest profile U.S. Representative Ilhan Omar comfortably won reelection last November by 38.4 points over Republican Lacy Johnson, the controversial lawmaker shed significant support from her historic 2018 victory.
In 2018, Omar's 78.0 percent was the third largest percentage of the vote ever recorded among the 140+ newly elected Gopher State U.S. Representatives since statehood – and the largest involving elections with two major party nominees on the ballot.
[It should be noted that Minnesota's 5th CD has by far the largest partisan tilt in the state: a +26 point Democratic advantage according to the Cook Partisan Voting Index. Next is the 4th CD at +14 Democratic, with the 6th and 7th CDs at +12 Republican.].
However, following an expensive 2020 primary battle against Antone Melton-Meaux in which she became just the seventh incumbent since the DFL merger in 1944 to fall short of winning 60 percent out of nearly 300 renomination attempts, Rep. Omar won just 64.3 percent of the November vote – a notable 13.7-point drop in support from two years prior.
But that tells only part of the story.
Smart Politics examined the last 79 times in which Minnesota U.S. Representatives ran for reelection since 2000 and compared their support with that received by their party's nominee at the top of the ticket (the vote for president in 2000, 2004, 2008, 2012, 2016, 2020 and the vote for governor in 2002, 2006, 2010, 2014, 2018).
Out of these 79 contests involving incumbents, Omar's 2020 performance ranks at the bottom – and no other incumbent is even close.
In 2020, Omar ran 15.7 points behind Joe Biden, who won an impressive 80.0 percent in Minnesota's 5th Congressional District.
No other U.S. Representative ran even seven points behind the top of the ticket during this 11-cycle period since 2000.
Next but far behind Omar is another controversial Minnesota lawmaker – Republican Michele Bachmann. The former congresswoman ran 6.9 points behind John McCain in 2008 when she was reelected with 46.4 percent of the vote in the 6th CD while McCain won 53.3 percent.
Since 2000, Minnesota's U.S. Representatives have run ahead of the top of the ticket in 60 of 79 elections and in one race ran dead even.
Incumbents ran behind the top of the ticket just 18 times including five during the 2020 cycle: Omar (-15.7 points), 1st CD Republican Jim Hagedorn (-5.3), 4th CD DFLer Betty McCollum (-4.1), 2nd CD DFLer Angie Craig (-4.0), and 3rd CD DFLer Dean Phillips (-2.9).
Three U.S. Representatives have recorded less support than the top of the ticket three times since 2000:
Republican Michele Bachman (6th CD): 2008 (-6.9 points), 2010 (-0.3), 2012 (-5.8)
DFLer Keith Ellison (5th CD): 2008 (-3.3), 2014 (-0.1), 2016 (-3.9)
DFLer Betty McCollum (4th CD): 2004 (-4.2), 2016 (-3.1), 2020 (-4.1)
On the other side of the spectrum, former 7th CD DFLer Collin Peterson has the best record vis-à-vis the top of the ticket over the last 20 years of congressional elections in the state, owning the top four spots and six of the top eight.
Peterson ran 30.6 points ahead of Al Gore in 2000, 27.1 points ahead of Mike Hatch in 2006, 26.2 points ahead of Roger Moe in 2002, and 24.8 points ahead of Barack Obama in 2008.
On average, Minnesota U.S. Representatives have run 7.7 points better than their party's top nominee across the last 79 elections since 2000.
It should be noted that third party support was a bit stronger in Omar's district in the 2020 cycle with the non-major party vote tallying 9.9 percent. The third party vote was 7.9 percent in the 4th CD, 6.7 percent in the 7th CD, 5.9 percent in the 1st CD and 2nd CDs, and 5.7 percent in the 8th CD.
While this may have depressed Omar's vote to some extent, it could also be argued that third party candidates were an attractive option precisely because the congresswoman is less popular in her district than the president-elect.
Follow Smart Politics on Twitter.