How Often Do Elevated Governors Win Gubernatorial Elections?
Only a slight majority of governors-via-succession who attempted to hold their seat in the subsequent election have been successful since 1900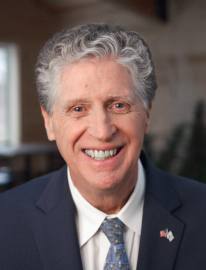 If term-limited Rhode Island Governor Gina Raimondo is confirmed as the nation's next U.S. Secretary of Commerce, Lieutenant Governor Daniel McKee (pictured) will get a jump-start on what was an expected 2022 gubernatorial campaign.
But if McKee is 'elevated' to the state's top elected office through succession, how much of an advantage will that give him in the 2022 cycle?
The track record of U.S. Senate appointees who campaigned to keep their seat has been spotty of late with Alabama Republican Luther Strange losing his party's nomination in 2017 and Arizona and Georgia Republicans Martha McSally and Kelly Loeffler losing at the ballot box this past cycle. [Appointees Tina Smith of Minnesota and Cindy Hyde-Smith of Mississippi were elected during this period].
For this project, Smart Politics examined the electoral fate of the 174 lieutenant governors, secretaries of state, state senate presidents, and state house speakers since 1900 who were elevated to the office of governor through a gubernatorial death, resignation, or other removal from office.
Of these 174 newly installed governors, 46 were not eligible to run in the upcoming election, having been sworn into the office either after the primary or general election (or just after the filing deadlines) or passing away in office.
For example, in May 2006, Idaho Republican Governor Dirk Kempthorne resigned after being appointed to U.S. Secretary of the Interior. Lieutenant Governor Jim Risch became governor – three days after Butch Otter won the GOP primary to become his party's nominee in the 2006 general election.
In New Hampshire, state Senate president Chuck Morse served as Acting Governor for a few days in January 2017 following the November 2016 election of Chris Sununu, but before the new governor's term began (exiting Governor Maggie Hassan resigned before the end of her term to join the U.S. Senate).
Of the remaining 128 elevated governors, 19 opted not to run for governor in the upcoming cycle, or approximately one in seven.
Recent examples include New Jersey Republican Donald DiFrancisco in 2001, Massachusetts Republican Jane Swift in 2002, Pennsylvania Republican Mark Schweiker in 2002, New York Democrat David Paterson in 2010 (who withdrew several months prior to the primary), and Kansas Democrat Mark Parkinson in 2010.
That leaves 109 elevated governors who attempted to retain their new seat at the next election.
Overall, only 59 of these 109 governors were successful (54.1 percent).
However, the recent trend has been more favorable to these incumbents with 14 of the last 18 winning their gubernatorial election including 12 of the last 13.
The four governors-via-succession who failed to hold their seats during the 21st Century are Republican Scott McCallum of Wisconsin in 2002, Democrat Joe Kernan of Indiana in 2004, GOPer Olene Walker of Utah in 2004, and Kansas Republican Jeff Colyer in 2018.
McCallum lost the general election to Jim Doyle by 3.7 points, Kernan lost to Mitch Daniels by 7.7 points, Walker failed to win her party's nomination at the GOP convention, and Colyer lost his party's primary by 0.1 points to Kris Kobach.
Since 2000, the 14 elevated governors won the next gubernatorial election are: Texas Republican Rick Perry (2002), Connecticut Republican Jodi Rell (2006), Nebraska Republican Dave Heineman (2006), Alaska Republican Sean Parnell (2010), Arizona Republican Jan Brewer (2010), Illinois Democrat Pat Quinn (2010), Utah Republican Gary Herbert (2010), West Virginia Democrat Earl Ray Tomblin (2011), North Dakota Republican Jack Dalrymple (2012), Oregon Democrat Kate Brown (2016), Alabama Republican Kay Ivey (2018), Iowa Republican Kim Reynolds (2018), South Carolina Republican Henry McMaster (2018), and Missouri Republican Mike Parson (2020).
Of the 50 elevated governors who attempted but failed to hold their seats since 1900, six lost their party's nomination at the state convention, 15 lost their party's primary (including three in runoffs), and 29 were defeated in the general election.
Prior to Colyer, the last such governor to lose at the primary stage was Republican Walter Miller in 1994 who was defeated by former two-term Governor Bill Janklow by 8.0 points.
Follow Smart Politics on Twitter.