Could Tony Evers Buck History in 2022?
A Democrat in the White House spells trouble at the ballot box for the party's Wisconsin gubernatorial nominees – even incumbents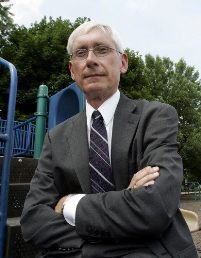 Democrats enjoyed much success at the ballot box across the nation during the 2018 and 2020 cycles, and in Wisconsin no victory was bigger than Tony Evers' unseating of Governor Scott Walker.
Evers' win gave Democrats a seat at the table for the 2022 redistricting process – a seat that eluded them a decade prior when Walker won his first term.
But Wisconsin Democrats are understandably wary of what fate will bring during the 2022 midterms in which the party of the sitting president often struggles to hold serve.
Evers, who will be 71 on Election Day, has not yet announced his reelection plans.
To be sure, the party of the president has struggled in both Democratic and Republican circles over the last century in Wisconsin. [Smart Politics wrote about Walker's own bleak historical odds at winning reelection back in 2018].
For Democrats in particular, history has been even less kind with the party looking to add an electoral feat to its resume that very few members have achieved.
A Smart Politics analysis of Wisconsin electoral data finds that Democrats have lost a staggering 32 of the last 33 elections for governor when a Democrat resides in the White House dating back to 1855.
The only Democrat to claim victory during this period was in 1962 when Attorney General John Reynolds defeated former state party chairman (and 1960 GOP nominee) Philip Kuehn by less than 12,000 votes (0.9 points) under President John Kennedy.
Evers, of course, would have the advantage of incumbency in 2022 – although that proved to be insufficient for Walker in 2018.
Since the founding of the Republican Party, every Democratic incumbent was defeated when running during a Democratic presidency: William Barstow in 1855 (after a losing court contest), George Peck in 1894, Albert Schmedeman in 1934, John Reynolds in 1964, and Martin Schreiber in 1978.
Prior to the formation of the Republican Party in 1854, Wisconsin Democrats did record two wins against Whig nominees whilst controlling the presidency: Nelson Dewey in 1848 (with James Polk in office) and William Barstow in 1853 (Franklin Pierce).
Adding in those victories, Wisconsin Democrats have an all-time record of three wins in 35 cycles in elections for governor under a Democratic president (8.6 percent).
That ranks last among Wisconsin's Upper Midwestern neighbors:
Illinois (7 of 24, 29.2 percent): 1838 (Thomas Carlin), 1846 (Augustus French), 1848 (French), 1936 (Henry Horner), 1948 (Adlai Stevenson II), 1964 (Otto Kerner), and 2010 (Pat Quinn)
Iowa (7 of 33, 21.2 percent): 1846 (Ansel Briggs), 1934 (Clyde Herring), 1936 (Nelson Kraschel), 1962 (Harold Hughes), 1964 (Hughes), 1966 (Hughes), and 1998 (Tom Vilsack)
Michigan (10 of 37, 27.0 percent): 1835 (Stevens Mason), 1837 (Mason), 1845 (Alpheus Felch), 1847 (Epaphroditus Ransom), 1914 (Woodbridge Ferris), 1936 (Frank Murphy), 1940 (Murray Wagoner), 1948 (Soapy Williams), 1950 (Williams), and 1952 (Williams)
Minnesota (5 of 29, 17.2 percent): 1857 (Henry Sibley), 1914 (Winfield Hammond), 1962 (Karl Rolvaag), 2010 (Mark Dayton), and 2014 (Dayton)
By contrast, Wisconsin Republican gubernatorial nominees have won 26 of 38 elections with a member of their party in the White House (68.4 percent).
However, Republicans won 22 of 25 such elections prior to Dwight Eisenhower (88.0 percent) and just four of 13 elections since (30.8 percent).
The GOP carried the governorship in Wisconsin while controlling the presidency during the elections of 1861 (Louis Harvey), 1863 (James Lewis), 1869 (Lucius Fairchild), 1871 (Cadwallader Washburn), 1875 (Harrison Ludington), 1877 (William Smith), 1879 (Smith), 1881 (Jeremiah Rusk), 1884 (Rusk), 1898 (Edward Scofield), 1900 (Robert La Follette), 1902 (La Follette), 1904 (La Follette), 1906 (James Davidson), 1908 (Davidson), 1910 (Francis McGovern), 1912 (McGovern), 1922 (John Blaine), 1924 (Blaine), 1926 (Fred Zimmerman), 1928 (Walter Kohler, Sr.), 1930 (Philip Fox La Follette), 1954 (Walter Kohler, Jr.), 1956 (Vernon Thomson), 1986 (Tommy Thompson), and 1990 (Thompson).
Across all parties, Wisconsinites have elected a gubernatorial nominee from the sitting president's party in just five of the last 33 elections dating back to 1932 (15.2 percent).
The nationalization of politics and elections in recent years has created even greater challenges for gubernatorial nominees of a sitting president's party, particularly in purple states like Wisconsin.
Gubernatorial incumbents have notched a decent record at the ballot box since statehood in Wisconsin – winning 36 of 52 elections (69.2 percent). However, incumbents have recorded only two wins during the last 11 attempts since 1928 when their party runs the White House: Kohler, Jr. in 1954 and Thompson in 1990.
Republicans Fred Zimmerman (1928), Walter Kohler, Sr. (1930), Philip La Follette (1932), Vernon Thompson (1958), Scott McCallum (2002), and Scott Walker (2018) plus Democrats Albert Schmedeman (1934), John Reynolds (1964), and Martin Schrieber (1978) all came up short.
Follow Smart Politics on Twitter.