Tim Ryan 2022: No Incumbent, No Problem?
In the annals of odd electoral facts, Democrats have never won a U.S. Senate seat in Ohio when an incumbent didn't run for reelection
The announcement that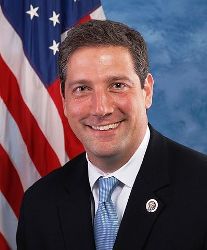 Ohio Republican Rob Portman would be retiring from the U.S. Senate in 2022 gives Democrats an opening to pick up a seat in the purplish state.
Moderate Democratic U.S. Representative Tim Ryan is preparing to jump into this high profile race and is looking to put an end to an electoral oddity in the Buckeye State: each time a U.S. Senator from Ohio has not sought another term in the direct election era, Republicans have won the seat.
Overall, Democrats have won 18 of the 40 general and special U.S. Senate elections in Ohio since 1914, but none of the eight contests in which an incumbent did not seek an additional term:
1914 (Republican seat): Former state legislator and Lieutenant Governor Warren Harding defeated Attorney General Timothy Hogan by 9.6 points
1920 (Republican seat): Governor Frank Willis beat businessman William Julian by 18.4 points
1940 (Democratic seat): Cleveland Mayor Harold Burton defeated former U.S. Representative John McSweeney by 4.8 points
1946 special (Democratic seat): Former state legislator Kingsley Taft beat Henry Webber by 12.5 points
1970 (Democratic seat): U.S. Representative Robert Taft, Jr. narrowly edged former state legislator Howard Metzenbaum by 2.2 points
1994 (Democratic seat): Lieutenant Governor Mike DeWine coasted to a 14.2-point win over entrepreneur Joel Hyatt
1998 (Democratic seat): Governor George Voinovich defeated former state legislator and Cuyahoga County Commissioner Mary Boyle by 12.9 points
2010 (Republican seat): Former Office of Management and Budget Director Rob Portman beat Lieutenant Governor Lee Fisher by 17.4 points
In three additional cycles, incumbents ran for reelection but were defeated in the primary. Democrats also lost two of those races (1928's special to former U.S. Senator and sitting U.S. Representative Theodore Burton and in 1968 to Attorney General William Saxbe) but did win one (behind John Glenn in 1974).
Ohio Democratic U.S. Senate nominees have surprisingly fared much better when squaring off against GOP incumbents winning six of 14 such races over the decades – knocking off Roscoe McCullough (1930, special), Simeon Fess (1934), George Bender (1956), John Bricker (1958), Robert Taft, Jr. (1976), and Mike DeWine (2006).
While Congressman Ryan may on paper be the strongest general election candidate for his party, he may yet need to navigate his way around progressive challengers on the path to the Democratic nomination next year.
Follow Smart Politics on Twitter.