Ravnsborg Could Become 3rd South Dakota AG to Have Term Cut Short
To date, none of the state's 31 Attorneys General have resigned in scandal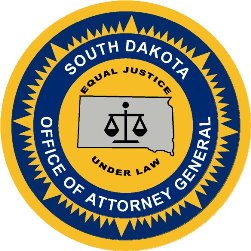 Calls for South Dakota Attorney General Jason Ravnsborg to resign have intensified in recent days following the completion of an investigation which resulted in the Republican being charged with three misdemeanors in connection to a mid-September 2020 incident in which he struck and killed a pedestrian with his vehicle.
Ravnsborg's office thus far has stated this legal fallout does not impact the attorney general's ability to perform his job and therefore he will not resign.
Fellow Republican state Representative Will Mortenson has already filed articles of impeachment due to Ravnsborg not exiting his post, and Governor Kristi Noem has issued a statement calling for the state's top law enforcement official to resign.
Of the 31 individuals who have served as South Dakota Attorney General since statehood, only two have not served the entirety of their term.
Republican John Pyle was in the last year of his second term when he died in office from typhoid at the age of 41 on February 21, 1902.
Pyle, the state's fourth Attorney General, fought the illness for nearly two months, and his death left a vacancy of almost four weeks.
Republican Governor Charles Herreid then appointed Huron resident and Assistant Attorney General Judge A.W. Burtt to fill the vacancy on March 18, 1902.
More than a century passed with each of the subsequent 24 individuals to hold the office serving out the their terms.
In 2009, however, the state's 29th Attorney General – Larry Long – resigned on September 4th after being appointed judge to the Second Judicial Circuit Court by Republican Governor Mike Rounds.
Governor Rounds had appointed U.S. Attorney Marty Jackley to fill the vacancy on August 19, 2009 effective September 4th.
Ravnsborg was first elected to the office in 2018 and if he resigns or is forced to leave office in 2021 he would become the seventh South Dakota Attorney General to serve less than three years in the position (and the only one who was elected to a four-year term):
Populist Melvin Grigsby (1897-1899): Grigsby served two years, but was commissioned as a colonel in the Spanish-American War in 1898 (his unit was dubbed "Grigsby's Rough Riders"). He did not run for another term and the People's Party nominated judge and state Senator C.S. Palmer.
Republican A.W. Burtt (1902-1903): Burtt was appointed to the office after the death of John Pyle. Burtt did not run for his party's nomination and Brookings Judge Philo Hall received the nod.
Democrat Clair Roddewig (1937-1939): Roddewig was defeated in his bid for a second term in the 1938 general election. Republican Leo Temmey bested the incumbent by 7.6 points.
Democrat Parnell Donahue (1959-1961): Donahue lost his reelection by 7.4 points to A.C. Miller.
Republican A.C. Miller (1961-1963): After just one term, Miller ran for the U.S. Senate in 1962 and was trounced in the GOP primary, losing to incumbent Francis Case by 66.9 points.
Democrat Kermit Sande (1973-1975): The 1974 post-Watergate Democratic landslide did not help Attorney General Sande, who was trounced in his reelection bid – losing to Bill Janklow by 33.3 points.
Even if Ravnsborg manages to serve out his term he will certainly not receive the GOP nomination in 2022.
The last South Dakota Attorney General who did not seek a second term was Republican Roger Tellinghuisen in 1990.
Follow Smart Politics on Twitter.