A Brief History of Six-Term US Senators
More than 40 U.S. Senators have won election to six or more terms in the history of the nation's upper legislative chamber including six serving in the 117th Congress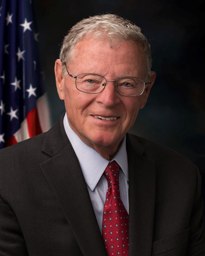 When the 118th Congress is convened in January 2023, at least one and as many as three of the most senior members of the U.S. Senate will no longer be members.
Six-term Alabama Republican Richard Shelby has already announced he is retiring at the end of this term while eight-term Vermont Democrat Patrick Leahy and seven-term Iowa Republican Chuck Grassley have not yet announced their reelection plans.
There are currently six members in the U.S. Senate who have been elected to six or more terms – the three aforementioned lawmakers plus Kentucky Republican Mitch McConnell, California Democrat Dianne Feinstein, and Oklahoma Republican Jim Inhofe (pictured).
That's up one from the 116th Congress with the addition of Inhofe to this club fresh off his reelection victory last November.
That may sound like a lot, but it's actually on par with the numbers seen throughout the last three decades – and is in fact down from a peak of 10 lawmakers boasting such credentials during the 111th Congress (2009-2011): Robert Byrd, Ted Kennedy, Daniel Inouye, Joe Biden, Leahy, Orrin Hatch, Thad Cochran, Dick Lugar, Max Baucus, and Carl Levin.
Since the 102nd Congress (1991-1993), no fewer than five and an average of 6.6 U.S. Senators who were elected to six or more terms served in the chamber during each congress.
The U.S. Senate never had a single six-termer in its ranks until Ohio Republican John Sherman in the late 19th Century.
Sherman served two stints of three nonconsecutive terms winning elections in 1861, 1867, and 1873 and then again in 1881, 1887, and 1893. The 53rd (1893-1895) and 54th (1895-1897) Congresses were thus the first with a six-term lawmaker.
From the beginning of the 20th Century until the end of World War II, only two other names were added to this list: Iowa Republican William Allison (1873-1908) won his sixth term in 1902 with Wyoming Republican Francis Warren (1890-1893, 1895-1929) winning his sixth nonconsecutive term in 1918.
The first time the U.S. Senate had two six-termers serve alongside one another was during the 82nd Congress (1951-1953): Democrats Kenneth McKellar of Tennessee (1917-1953) and Walter George of Georgia (1922-1957).
There has been at least one six-termer in the U.S. Senate ever since McKellar won reelection in 1946 to the 80th Congress (1947-1949).
But it would be nearly 30 years before the U.S. Senate would see at least five members from this club seated in the chamber.
The 94th Congress (1975-1977) had six of them: Mississippi Democrat James Eastland (1941, 1943-1978), Arkansas Democrat John McClellan (1943-1977), Washington Democrat Warren Magnuson (1944-1981), North Dakota Republican Milton Young (1945-1981), Alabama Democrat John Sparkman (1946-1979), and Louisiana Democrat Russell Long (1948-1987).
Barring a resignation, death, or an early retirement, the 118th Congress will at least have Infhofe, McConnell, and Feinstein and is poised to add two other members to the six-timer club: Democrats Patty Murray of Washington and Ron Wyden of Oregon.
If reelected, Wyden would be on track to be the all-time longest serving U.S. Senator in Oregon history during his sixth term. Wyden has currently served 25 years and 25 days through Monday and ranks fourth in state history.
Senator Wyden will pass Republicans Charles McNary (26 years, 7 months, 16 days) on September 23, 2022, Bob Packwood (26 years, 8 months, 29 days) on November 3, 2022 and Mark Hatfield (29 years, 11 months, 25 days) on January 30, 2026.
Murray currently ranks third in Washington history for longest service in the U.S. Senate (28 years, 1 month, 27 days through Monday) and would pass Democrat Scoop Jackson (30 years, 7 months, 27 days) on September 2, 2023.
But Senator Murray would need to win election to a seventh term to pass Warren Magnuson (36 years, 21 days) for the all-time state record – passing him on January 24, 2029.
Six-term U.S. Senators do have a fairly good track record of winning 7th terms – if they so choose.
Of the 42 lawmakers who won a sixth term, 21 sought a seventh term. [Twelve others did not run for reelection, six died in office, and one resigned; the fates of Feinstein and Inhofe are yet to be determined].
Eighteen of these 21 U.S. Senators won a seventh term.
Two lost their party's nomination (Tennessee Democrat Kenneth McKellar to Al Gore, Sr. in 1952 and Indiana Republican Dick Lugar to Richard Mourdock in 2012) and one lost the general election (Washington's Magnuson to Slade Gorton in 1980).
Follow Smart Politics on Twitter.