A Brief History of Presidential Campaigns by Vice Presidents
A large majority of sitting or former vice-presidents have adhered to the same timetable when launching their presidential bids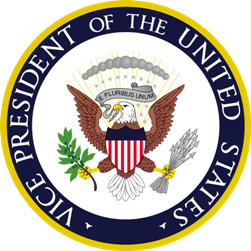 In less than two years it is likely that at least half of those Republicans seeking to enter the 2024 presidential race will have already officially launched their campaigns.
Whether or not former President Donald Trump decides to seek a return to the White House will certainly have a large effect on the size (and perhaps the ideological bent) of the field.
Throughout the last four years, there has been sporadic speculation that former Vice President Mike Pence was positioning himself for a 2024 run should Trump lose reelection.
Vice presidents do not have a great track record overall when running for president, although most do share a commonality: the vast majority ran during the first cycle in which their party's president was not a candidate.
That suggests if Pence is ever going to launch a presidential campaign, it is likely going to be in 2024.
Since the beginning of the modern two-party era in 1828, all but five of the 19 presidential campaigns by sitting or former vice-presidents took place during the first cycle after their president's final term or reelection campaign:
Democrat Martin Van Buren (1833-1837): Elected president in 1836 when Andrew Jackson declined to run for a third term
Democrat Richard Johnson (1837-1841): Received 38 convention votes on the third ballot in 1844, four years after President Van Buren lost a second term. [Note: Johnson was not on the 1840 ticket].
Democrat George Dallas (1845-1849): Although not a bonafide candidate, Vice President Dallas did receive three votes on the first two ballots at the 1848 Democratic convention
Democrat John Breckenridge (1857-1861): Breckenridge received 7.5 votes on the second ballot at the Baltimore Convention before winning the nomination of the 'Southern' Democratic faction outright and carrying 11 states in the 1860 general election
Republican Levi Morton (1889-1893): Morton received 58 votes on the first ballot at the 1896 GOP convention, four years after President Benjamin Harrison's defeat. [Note: Morton was not selected to be Harrison's running mate in 1892].
Democrat Adlai Stevenson (1893-1897): Vice President Stevenson won nine votes on the fourth ballot at the 1896 Democratic convention. President Cleveland did not seek a third nonconsecutive term.
Democrat Thomas Marshall (1913-1921): Marshall received 37 votes on the first ballot at the 1920 Democratic convention. President Woodrow Wilson did not seek a third term.
Democrat Henry Wallace (1941-1945): Wallace was the Progressive nominee in the 1948 cycle. [Wallace was left off the 1944 ticket with FDR in his successful bid for a fourth term].
Democrat Alben Barkley (1949-1953): Barkley won 81 votes on the 2nd ballot at the 1952 Democratic convention. President Harry Truman announced he was not a candidate for reelection earlier that year after the New Hampshire primary.
Republican Richard Nixon (1953-1961): Nixon coasted to his party's nomination but lost the 1960 general election after serving two terms as vice president. Nixon had better luck during his second White House bid in 1968.
Democrat Hubert Humphrey (1965-1969): Humphrey won the Democratic nomination but lost to Nixon in November. The sitting vice president launched his campaign a month after President Lyndon Johnson announced he would not seek reelection. Humphrey would later receive 67 votes at the 1972 convention (winning the Indiana, Ohio, Pennsylvania, and West Virginia primaries) and 10 votes at the 1976 convention.
Democrat Walter Mondale (1977-1981): Mondale received his party's nomination in 1984 only to be trounced in November by President Ronald Reagan – four years after Reagan/Bush unseated Jimmy Carter and Mondale
Republican George H.W. Bush (1981-1989): Bush became the second sitting vice president to win the presidency since 1828 joining Martin Van Buren. [Before the modern two-party era two other sitting vice presidents won the presidency: John Adams in 1796 and Thomas Jefferson in 1800].
Democrat Al Gore (1993-2001): After two terms as vice president, Gore cruised to the Democratic nomination only to be edged out by George W. Bush in the November election
Just a handful of candidacies were launched outside of this window:
Democrat John Calhoun (1829-1832): The former U.S. Senator received six convention votes on the 1st ballot in 1844 – 12 years after serving as vice president. Calhoun also won nine votes on the 1st ballot in 1848.
Republican Charles Fairbanks (1905-1909): Fairbanks won 88.5 votes on the second ballot and won the Indiana primary in 1916 – eight years after his vice presidency
Republican Dan Quayle (1989-1993): Quayle had a brief five-month campaign for president during the 2000 cycle – nearly eight years after his GOP ticket was defeated by Bill Clinton and Al Gore
Democrat Joe Biden (2009-2017): In 2020, Biden joined Richard Nixon as the only former vice presidents to later win the presidency – doing so four years after leaving office
Finally, there is the case of Democrat John Nance Garner in 1940. The sitting vice president challenged FDR for his party's nomination, but did not win any primaries and claimed just 61 votes at the Democratic convention.
But will we ultimately see a Pence '24 campaign? While few would question Pence's conservative bonafides in running for the GOP nomination, there is good reason to be skeptical that he has the personality to drive primary voters to his camp.
Follow Smart Politics on Twitter.