The Closest US House Elections in Iowa History
One in 25 elections to the U.S. House have been decided by less than one percentage point since statehood in Iowa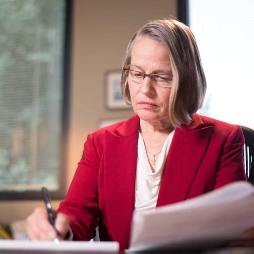 This week the last (technically) unresolved U.S. House race from last November was put to rest when Democrat Rita Hart ended her challenge of Mariannette Miller-Meeks' six-vote certified victory in Iowa's 2nd CD race.
Miller-Meeks was seated at the onset of the 117th Congress on January 3rd, but Hart hoped to gain traction for a successful contest in the House Committee on Administration. Hart argued the official election tally should include nearly two-dozen additional ballots that were not counted in the certified results.
In the end, Hart did not have sufficient Democratic support in the chamber to sustain her challenge and thus her 2020 campaign goes down as having lost not only the narrowest race in Iowa U.S. House electoral history, but also one of the closest elections for the office in the nation since the turn of the 20th Century.
Miller-Meeks (49.9117 percent) defeated Hart (49.9102 percent) by 0.0015 percentage points in the official certified results.
Prior to Hart's loss, the closest U.S. House race in Iowa history came in the state's 1882 5th CD contest – albeit with an asterisk.
In that cycle's open seat race, Republican James Wilson seemingly edged Democrat Benjamin Frederick by 0.09 points (23 votes).
Frederick contested the election and the House Committee on Elections ruled in his favor less than a fortnight before the end of the 48th Congress and he was eventually seated for the very last day of the congress in early March.
However, Frederick had already won the 1884 election for the seat against Republican Milo Smith during the previous autumn and thus served the entirety of the 49th Congress. Frederick's victory over Smith was by just 0.41 points – tied for the 13th most closely decided U.S. House race in Iowa history.
Overall, out of the 675 general and special Iowa U.S. House elections since statehood, 28 have been decided by less than a percentage point, or 4.1 percent.
That is a significant number. [By contrast, neighboring Minnesota has had 15 of its 605 U.S. House elections decided by less than a point, or 2.5 percent].
The overwhelming majority of these nail-biters in Iowa, however, took place during the 19th and early 20th Centuries.
For example, there were 14 elections decided by less than a percentage point among the 154 elections from statehood through the 1890 cycle, or 9.1 percent.
Eleven of these took place between 1880 and 1890 during which period the state held 67 such contests, for an impressive 16.4 percent decided by less than a point, or 1 in 6 contests.
Since 1940, there had only been four elections in Iowa with a victory margin shy of one percent out of 253 U.S. House contests conducted before the 2020 cycle (1.6 percent):
1956 (6th CD): Democratic minister Merwin Coad unseated six-term Republican James Dolliver by 0.16 points
1964 (3rd CD): Eight-term Republican Harold Gross nipped Democratic Waterloo Assistant City Attorney Stephen Peterson by 0.26 points
1970 (1st CD): Two-term Republican Fred Schwengel defeated Democratic state Representative Edward Mezvinsky by 0.63 points
1990 (2nd CD): Republican Delaware County Attorney Jim Nussell beat Democratic farmer and two-time 2nd CD nominee Eric Tabor by 0.99 points
Coad's aforementioned victory now stands as the third narrowest in Iowa history for the office.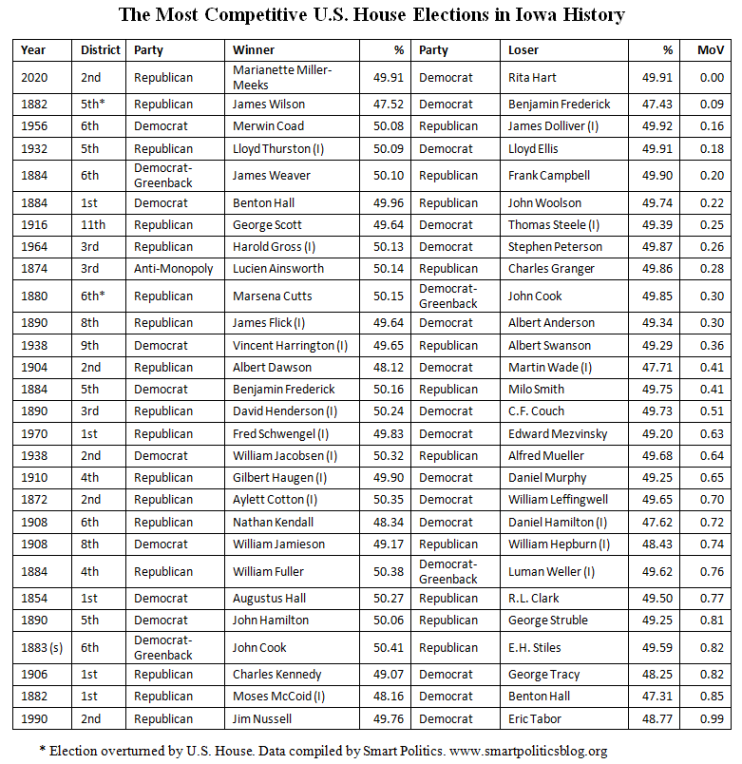 With redistricting pending, it is not yet known whether Hart will seek a rematch against Miller-Meeks next year.
Follow Smart Politics on Twitter.