Pennsylvania Democrats Look to End Nation's Longest Three-Peat Gubernatorial Drought
Democrats have not won three consecutive gubernatorial elections in Pennsylvania in nearly 175 years – more than 100 years longer than any other state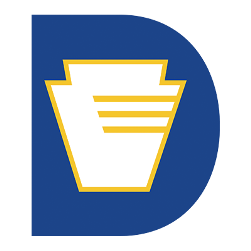 As term-limited Pennsylvania Governor Tom Wolf serves out his remaining 21 months in office, Democrats in the state are hoping a strong nominee will emerge from the 2022 primary to enable the party to win the office for a third straight cycle.
Two-term Attorney General Josh Shapiro is eying a bid and would be the expected Democratic front-runner should any other candidate challenge him for the party's nomination. [Lieutenant Governor John Fetterman is seeking the state's open U.S. Senate seat].
If Democrats in Pennsylvania are successful in holding the governorship in 2022, they will have accomplished an electoral feat that has eluded them since the 1840s.
A Smart Politics review of gubernatorial election data finds that Pennsylvania Democrats have had the longest drought in the nation in failing to win three straight elections for the office.
The last time Keystone State Democrats racked up three (or more) consecutive wins for governor was all the way back in 1847.
Democrats collected four straight gubernatorial wins in 1838 (David Porter), 1841 (Porter), 1844 (Francis Shunk), and 1847 (Shunk).
Since then, the party has won two elections in a row five times: in 1954 (George Leader) & 1958 (David Lawrence), 1970 & 1974 (Milton Shapp), 1986 & 1990 (Robert Casey, Sr.), 2002 & 2006 (Ed Rendell), and 2014 & 2018 (Wolf).
Democrats came closest to a third straight win in 1994 when Lieutenant Governor Mark Singel came 5.5 points short of winning an open seat race against six-term GOP Congressman Tom Ridge.
No other state in the nation has seen its Democratic Party fail to win three (or more) straight gubernatorial elections for as long as Pennsylvania.
And it's not even close.
Neighboring Ohio has the nation's second longest drought at 67 years.
In 1954, Governor Frank Lausch won his fourth consecutive two-year term. But Ohio Democrats have managed to win back-to-back contests only once since (Richard Celeste in 1982 & 1986).
Meanwhile, Maine Democrats last won three straight races for governor in 1958 after Edmund Muskie (1954, 1956) and Clinton Clauson (1958) won two-year terms.
Democratic parties in five states have not won three or more consecutive gubernatorial elections since the 1960s: Michigan (1960), Wisconsin (1962), Nebraska (1964), New Jersey (1965), and Tennessee (1966).
Democrats in five other states last did so back in the 1970s: South Carolina (1970), Kansas (1972), South Dakota (1974), Texas (1974), and North Dakota (1976).
As for the remaining droughts:
Ten date back to the 1980s: Utah (1980), Alabama (1982), Arizona (1982), Florida (1982), New Mexico (1982), Oklahoma (1982), Rhode Island (1982), Massachusetts (1986), Mississippi (1987), and Virginia (1989)
Eight go back to the 1990s: Idaho (1990), Wyoming (1990), Louisiana (1991), Arkansas (1994), Nevada (1994), Georgia (1998), Maryland (1998), and Kentucky (1999)
Four date back to the 2000s: Indiana (2000), Missouri (2000), Iowa (2006), and North Carolina (2008)
Five go back to the 2010s: Illinois (2010), New Hampshire (2014), Vermont (2014), Montana (2016), and West Virginia (2016)
Finally, nine states are currently in the midst of a Democratic gubernatorial winning streak of at least three straight contests: Oregon (10), Washington (10), Delaware (7), Colorado (4), New York (4), California (3), Connecticut (3), Hawaii (3), and Minnesota (3).
Because most states have term limits for the office, the ability to win three or more straight elections in many states is a sign that the party can win across different nominees and not simply rely on the particular political talents of one individual.
For example, Minnesota Democrats only just won their third consecutive election for governor with two different nominees: Mark Dayton (2010, 2014) and Tim Walz (2018). [The Farmer-Labor Party did so in the 1930s behind Floyd Olson (1930, 1932, 1934) and Elmer Benson (1936).
This November, Virginia Democrats will be looking to win their third straight election for the first time since 1989. In addition to Pennsylvania, Democrats in one other state – Rhode Island – could notch their third consecutive win for governor in 2022: Rhode Island. Louisiana could do so in 2023 and North Carolina in 2024.
Alaska is the only state never to see Democrats win more than two consecutive races for governor since statehood.
Follow Smart Politics on Twitter.