Will Mike DeWine Face a Competitive Gubernatorial Primary Challenger?
Twenty-five of 26 incumbent governors from Ohio have won their party's primary over the last 100+ years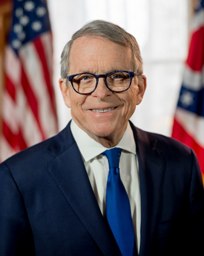 Last week Ohio Republican Governor Mike DeWine made headlines by announcing his state's plan to boost vaccine rates with a series of $1 million and full college scholarship lotteries for adults and children who have received a COVID vaccine.
Ohio's plan received mixed reviews as DeWine begins to situate himself for his 2022 reelection campaign with a primary less than a year away.
DeWine already has two announced little-known challengers (farmer Joe Blystone and Second Amendment activist Adam Rodgers), but higher profile politicians have expressed interest including former U.S. Representative and 2018 U.S. Senate nominee Jim Renacci and 8th CD Representative Warren Davidson.
It appears that any potential successful challenge to Governor DeWine will come from his right, as the incumbent has not curried favor with former President Donald Trump.
That said, it would be highly unusual for a sitting Ohio governor to lose a primary.
Over the last 38 election cycles since the first gubernatorial primary in 1914, Ohio governors have been renominated by their party 25 out of 26 times (96.2 percent).
Republican governors have a perfect record of 11-0 with six incumbents running unopposed and only one winning less than two-thirds of the primary vote.
GOP governors who did not face a primary challenger are Myers Cooper in 1930, John Bricker in 1940 and 1942, George Voinovich in 1994, Bob Taft in 2002, and John Kasich in 2014.
Two Republican incumbents received two primary challengers – Frank Willis in 1916 (still winning 85.6 percent) and Thomas Herbert in 1948 (87.1 percent).
Three incumbents faced just one opponent: C. William O'Neill in 1958 (winning 63.6 percent), and Jim Rhodes in 1966 (88.7 percent) and 1978 (67.7 percent).
Democratic governors in Ohio, meanwhile, have won renomination in 14 of 15 cycles with only one of these victories being a close call.
The only governor from Ohio to lose a primary was Democrat Martin Davey in 1938. Former Lieutenant Governor Charles Sawyer defeated Davey by 3.6 points.
Only one other primary challenger has come within 20 points of an incumbent governor – Democrat or Republican. In 1962, state Attorney General Mark McElroy vied for Michael DiSalle's seat, but the governor bested McElroy by 4.9 points.
Five Democratic governors have not faced any primary challengers: James Cox in 1918, Frank Lausche in 1952 and 1954, Richard Celeste in 1986, and Ted Strickland in 2010.
Overall, Ohio governors have won an average of 84.9 percent of the primary vote across 26 elections and the 25 who were victorious enjoyed an average victory margin of 73.9 points.
Incumbents have faced a total of 23 challengers across their 26 renomination bids with a high water mark of three who took on Democrat Vic Donahey in 1926. Donahey still won 79.1 percent of the vote.
As the state's sitting Attorney General, DeWine won the Republican nomination in 2018 with 59.8 percent of the vote against then Lieutenant Governor Mary Taylor. Taylor, who has been mentioned as possibly seeking a rematch against DeWine in 2022, was just the second Republican woman in Ohio history to appear on a gubernatorial primary ballot.
The first – Evelyn Francis Snow – did so nearly a century prior. Snow came in eighth place out of 12 GOP candidates with 1.3 percent in 1926.
Democrats, meanwhile, have only had one woman appear on a gubernatorial ballot – Vivienne Suarez placed seventh out of seven candidates with 1.1 percent in 1958 in a primary won by Michael DiSalle.
Dayton Mayor Nan Whaley plans to add her name to that list – having already announced her candidacy for the 2022 Democratic nomination.
Follow Smart Politics on Twitter.