McGeachin Eyes History in Idaho's 2022 Gubernatorial Race
No ex- or sitting lieutenant governor has ever unseated an incumbent governor in the Gem State
On Wednesday,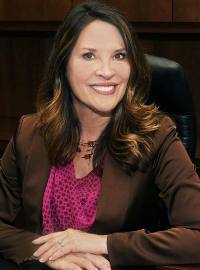 Idaho Lieutenant Governor Janice McGeachin launched a bid to challenge incumbent Brad Little for the GOP gubernatorial nomination.
Idaho is one of more than a dozen states which still elect their lieutenant governors on a separate ballot line from the office of governor.
When Butch Otter decided not to seek a fourth term in 2018, then Lieutenant Governor Little won the GOP nomination for governor by just 4.7 points over Congressman Raul Labrador with just 37.3 percent of the vote. That marked the lowest primary support for a gubernatorial nominee from either party since GOP state Senator Roger Fairchild won 37.1 percent to clinch his party's nomination in 1990.
McGeachin's political move is a bold one – and without a roadmap for success in Idaho electoral history.
Prior to this cycle, there have been 15 campaigns for governor in Idaho since the first primary for the office by ex- or sitting lieutenant governors (excluding those who had already succeeded to the governorship).
[Note: The primary era is inclusive of the cycles from 1910-1918 and 1932 to the present. For six cycles from 1920 through 1930 both major parties selected their nominees via state conventions. Those cycles are included in the above tally].
However, just five of these 15 campaigns were launched with an incumbent governor seeking reelection. And only two of them challenged an incumbent from their own party. All five ultimately lost.
The first sitting or former lieutenant governor to seek the governorship with an incumbent running for reelection was Republican James Stevens in 1914.
Stevens had been out of office for nearly a decade, serving as the state's #2 from 1903-1905. In 1914, Stevens challenged one-term Governor John Haines in the GOP primary and placed third out of three candidates with 23.3 percent. Haines lost his seat that November to former Boise Mayor, Democrat Moses Alexander.
With Governor Alexander running for a second term in 1916, Republican Lieutenant Governor Herman Taylor (1913-1917) sought his party's nomination. Taylor placed third out of four candidates with 20.7 percent.
A few decades later, Lieutenant Governor Charles Gossett (1937-1939, 1941-1943), was one of three Democrats to take on their party's Governor, Barzilla Clark, in the 1938 primary. Gossett placed third with 23.2 percent as Clark lost the primary to former Governor C. Ben Ross.
Nearly four decades later, Republican Jack Murphy (1967-1975) took on first-term Democratic Governor Cecil Andrus. Murphy won the GOP primary without opposition but was routed that November in the post-Watergate cycle by 44.5 points, winning only 26.5 percent of the vote. This marked the second worst showing by a Republican nominee for governor of Idaho in party history (behind only David Budlong's 22.4 percent in a 54.4-point loss to Democratic-People's nominee Frank Steunenberg in 1896).
The last lieutenant governor to take on an incumbent was Republican Phil Batt (1979-1983) in 1982. Batt ran against Democratic Governor John Evans during his quest for a second full term. Batt won the GOP primary by nearly 30 points but lost the general to Evans by just 1.3 points.
Lieutenant governors have had some success in winning the state's top elected office in cycles with open seats.
Two were elected governor during the 1920s when the state primary for the office had been suspended. Republicans Charles Moore (1919-1923) and H.C. Baldridge (1923-1927) won their first of two terms in 1922 and 1926 respectively.
Eight other ex- or sitting lieutenant governors have campaigned for open gubernatorial seats over the decades including three during the 1944 cycle:
1936: Democrat G.P. Mix (1935-1937) placed third out of eight primary candidates with 17.0 percent
1944: Republican Edwin Nelson (1943-1945) placed third out of five primary candidates with 20.0 percent
1944: Former Republican Lieutenant Governor Donald Whitehead (1939-1941, 1947-1951) placed fifth out of five primary candidates with 13.1 percent
1944: Former Democratic Lieutenant Governor Charles Gossett (1937-1939, 1941-1943) won the four-candidate Democratic primary with 39.8 percent and the general election by 5.3 points over W.H. Detweiler
1986: Republican David Leroy (1983-1987) won the GOP nomination without opposition but was defeated by former Governor Cecil Andrus
1994: Former Republican Lieutenant Governor Phil Batt (1979-1983) won the four-candidate GOP primary with 48.0 percent and the general election by 5.9 points against Attorney General Larry Echo Hawk
2006: Former Republican Lieutenant Governor Butch Otter (1987-2001) won the four-candidate GOP primary by nearly 50 points and the general election by 8.6 points over newspaper publisher Jerry Brady en route to three terms
2018: Republican Brad Little (2009-2019) eked out a 4.7-point primary win in a seven-candidate field and cruised to a 21.6-point victory against Democratic state Representative Paulette Jordan
Just two governors have failed to win their party's nomination since 1910: the aforementioned Clark in 1938 and Republican Robert Smylie in 1966 (to Don Samuelson).
Four lieutenant governors from Idaho became governor via succession: Republican N.B. Willey in 1890, Democrat Arnold Williams in 1945, Democrat John Evans in 1977, and Republican Jim Risch in 2006.
Willey subsequently lost his party's nomination in 1892 to William McConnell while Williams lost the 1946 general election to C.A. Robins (and later the 1950 Democratic primary to former Auditor Calvin Wright).
Evans would be elected to two full terms as governor in 1978 and 1982 while Risch went back down ballot and won another term as lieutenant governor in November 2006.
A McGeachin victory in 2022 would also make history, of course, as she would become the first woman governor of Idaho as well as the first woman GOP nominee for the office.
Follow Smart Politics on Twitter.