How Often Do Missouri US Reps Run for US Senate?
Vicky Hartzler is the first of possibly multiple Show-Me State U.S. House members to launch a bid for the upper chamber in 2022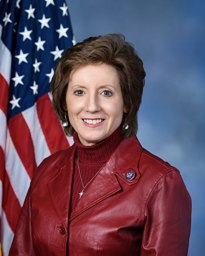 Roy Blunt's announcement three months ago that he would not seek a third term in the U.S. Senate has already resulted in several big names in Missouri politics lining up to vie for his open seat.
Among the handful of GOP candidates already in the race are former Governor Eric Greitens, current state Attorney General Eric Schmitt, and six-term Congresswoman Vicky Hartzler who launched her bid last week.
Hartzler is one of several members of Missouri's Republican U.S. House delegation who are purported to be considering a run for Blunt's seat including six-term Rep. Billy Long and five-term Reps. Jason Smith and Ann Wagner.
Blunt himself was a seven-term U.S. Representative when he won Kit Bond's open U.S. Senate seat in 2010 – but is only the second sitting U.S. House member to do so from Missouri during the direct election era.
Prior to Blunt, only three-term Democrat Harry Hawes was promoted without interruption between the two chambers.
Hawes represented the 11th CD from 1921 until simultaneously winning special and general elections in 1926 to the state's Class III seat by less than five points against appointed incumbent George Williams.
Three other former U.S. Representatives have won U.S. Senate seats in Missouri since 1914:
1928: Republican Roscoe Patterson (1921-1923; 7th CD) picked up an open seat for his party with a 4.0-point victory against St. Louis attorney Charles Hay
1950: Democrat Thomas Hennings (1935-1940; 11th CD) knocked Senator Forrest Donnell out of office by a 7.3-point margin
2002: Republican Jim Talent (1993-2001; 2nd CD) unseated Senator Jean Carnahan by 1.1 points
Against this backdrop of successful campaigns are three times as many bids that came up short.
Seven other sitting Missouri U.S. Representatives failed in their U.S. Senate bids during the direct election era:
1934: Democrat John Cochran (1926-1927, 1928-1947; 11th CD / At-large / 13th CD) placed second out of four primary candidates with 35.4 percent in a 6.0-point loss to Harry Truman
1934: Democrat Jacob Milligan (1920-1921, 1923-1935; 3rd CD / At-large) placed third in the same primary with 22.1 percent nearly 20 points behind Truman
1968: Republican Thomas Curtis (1951-1969; 12th CD / 2nd CD) came 2.1 points shy of winning an open seat against Lieutenant Governor Thomas Eagleton
1976: Democrat Jerry Litton (1973-1976; 6th CD) died in a plane crash as he was winning his party's nod to take on state Attorney General John Danforth
1976: Democrat James Symington (1969-1977; 2nd CD) placed third in the 10-candidate Democratic primary with 25.2 percent – 20 points behind Litton
1994: Democrat Alan Wheat (1983-1995; 5th CD) narrowly won his party's nomination only to be upended by 24 points in the general by former Governor John Ashcroft
2012: Republican Todd Akin (2001-2013; 2nd CD) won a competitive three-way primary but Senator Claire McCaskill handily won reelection by 15.7 points
An additional nine former U.S. Representatives ran for the U.S. Senate and lost over the last 110 years:
1910: Republican Nathan Frank (1889-1891; 9th CD) placed a distant second in the GOP primary with 24.4 percent – 36 points behind Lieutenant Governor John McKinley. [Note: Missouri began conducting the direct nomination of U.S. Senators in 1908 although the general election vote was still conducted by the state legislature until 1914].
1914: Republican Politte Elvins (1909-1911; 13th CD) lost his party's primary by 27 points to former state GOP Party Chairman Thomas Akins
1916: Nathan Frank placed third with 19.0 percent in his second attempt at the GOP U.S. Senate nomination – former state GOP Party Chairman Walter Dickey received the nod
1928: Nathan Frank ran second out of six candidates with 28.0 percent – narrowly losing his party's nomination in his third and final bid. Congressman and sitting U.S. District Attorney for the Western District of Missouri Roscoe Patterson eked out a 3.4-point victory.
1928: Republican William Atkeson (1921-1923; 6th CD) placed a distant fifth in the same primary with just 4.7 percent
1932: Republican Dewey Short (1929-1931; 14th CD) ran second out of six candidates with 21.0 percent – nearly 30 points behind former St. Louis Mayor Henry Kiel. [Short would soon rejoin the state's U.S. House delegation for more than 20 years (1935-1957; 7th CD)].
1938: Republican Henry Caulfield (1907-1909; 11th CD) – also a former governor of Missouri – cruised to an easy nomination win with 86 percent, but fell more than 20 points short of unseating Senator Bennett Champ Clark
1946: Republican William Elmer (1943-1945; 8th CD) could only muster 13.3 percent and a third place primary finish more than 40 points behind Kansas City attorney James Kern
1974: Republican Thomas Curtis (1951-1969; 12th CD / 2nd CD) easily won his party's U.S. Senate nomination for a second time but was no match for Senator Thomas Eagleton during this Watergate cycle – losing by more than 20 points
The 2022 GOP field still has to more than double to match the number of U.S. Senate hopefuls who ran in 2018 when a party-record 11 candidates graced the primary ballot in a contest easily won by Josh Hawley.
Follow Smart Politics on Twitter.