Dean Heller Eyes Electoral First In Nevada
No sitting or former Nevada U.S. Senator has ever appeared on a gubernatorial primary or general election ballot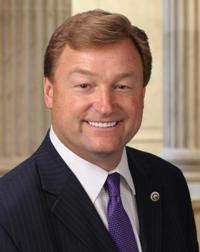 While Democrats have won nine of the last 10 statewide elections in Nevada following the 2014 cycle, it appears the GOP is not shying away from the opportunity to unseat first term Democratic Governor Steve Sisolak next year.
Five Republican candidates are already in the race including two-term Clark County Sheriff Joe Lombardo and two-term North Las Vegas Mayor John Lee, with reports coming out last week that former U.S. Senator Dean Heller is readying a bid as well. [U.S. Representative Mark Amodei and former state Attorney General and 2018 nominee Adam Laxalt have also not ruled out running for the office].
A Heller campaign would be particularly noteworthy as he would be taking an uncharted path to the governorship in the Silver State.
Smart Politics reviewed the state's elections for governor dating back to statehood and found that no sitting or ex-U.S. Senator has ever appeared on Nevada's 40 general or 56 major party primary gubernatorial ballots.
From 1864 through the 2018 cycle, Nevada voters have been given the opportunity to elect 217 different Nevadans for governor as a Democrat, Republican, independent, or a third party nominee.
None of the 26 men and women to serve in the U.S. Senate from Nevada launched such gubernatorial campaigns during or following their tenure in the nation's upper legislative chamber.
The reverse pathway, however, has occurred a handful of times with four ex- or sitting governors from Nevada winning election to the U.S. Senate:
Republican Tasker Oddie (1911-1915): Elected in 1920 and 1926
Democrat James Scrugham (1923-1927): Elected in 1942's special
Republican Paul Laxalt (1967-1971): Elected in 1974 and 1980
Democrat Richard Bryan (1983-1989): Elected in 1988 and 1994
Democrat Governor Edward Carville (1939-1945) also famously resigned to 'appoint himself' to the U.S. Senate in July 1945 following the death of Senator Scrugham.
[One additional failed gubernatorial candidate, William Massey, was subsequently appointed to the U.S. Senate. Massey lost to Tasker Oddie in the 1910 GOP gubernatorial primary by 2.6 points, and two years later Governor Oddie appointed Massey to fill the vacancy caused by the death of Senator George Nixon].
It should be noted that five of the 20 former Nevada U.S. Senators who served during the gubernatorial primary era (1910-) died in office and thus could never have run for governor as an ex-Senator (Republican George Nixon in 1912, Democrat Francis Newlands in 1917, Democrat Key Pittman in 1940, Democrat James Scrugham in 1945, and Democrat Pat McCarran in 1954).
While a Heller candidacy probably won't clear the GOP field, Republicans will still be shy of the party record eight candidates who vied for the gubernatorial nomination last cycle in 2018 – equaling the number who ran in 1990.
The 14 Democratic and Republican candidates on the primary ballot in 2018 also tied the state's previous high water mark set in 1990. Thirteen candidates ran in 1998 and 2014.
Follow Smart Politics on Twitter.