In Which States Are Women Elected to the US House at the Highest Rate?
Women have won seats in Western states at nearly twice the rate as those in any other region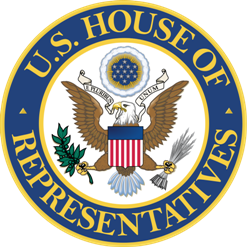 Republicans have been coming out of the woodwork in Wyoming to challenge party-bucking three-term U.S. Representative Liz Cheney in what is expected to be a barnburner of a GOP primary next year.
While there are a few women challenging the outspoken Trump critic (former Pavillion Mayor Marissa Selvig and businesswoman Robyn Belinskey), should Cheney lose the nomination for this safe Republican seat the state's 14-cycle streak of electing a woman to the at-large seat is in jeopardy. A half-dozen men have already declared or filed paperwork including two state lawmakers.
That streak has propelled Wyoming – by leaps and bounds – to the top of the list of states with the highest percentage of electing women to the U.S. House in recent decades.
Smart Politics reviewed the 7,098 general and special U.S. House elections held since 1989, and calculated the rate at which women have been elected to these seats in each state.
Wyoming is the only state in which women have won a majority of such elections during this 30+ year period: 14 of 17 races (82.4 percent).
Barbara Cubin won seven of these from 1994-2006, Cynthia Lummis the next four from 2008-2014, and Cheney the last three since 2016.
This streak only came close to ending in 2006 when Cubin defeated Democratic businessman Gary Trauner by 0.5 points and in 2008 when Trauner lost the open seat to Lummis by 9.8 points.
Just 10 states, including Wyoming, have elected women to the U.S. House in one-quarter or more U.S. House elections held since 1989.
South Dakota comes in second at 47.1 percent (eight of 17) followed by Hawaii (45.9 percent, 17 of 37), Nevada (39.6 percent, 19 of 48), Connecticut (38.4 percent, 33 of 86), California (29.5 percent, 252 of 854), New Mexico (29.4 percent, 15 of 51), Maine and New Hampshire (28.1 percent, nine of 32), and Washington (25.5 percent, 38 of 149).
It should be pointed out that eight of these 10 states have small delegations with all but California and Washington sending no more than four U.S. Representatives to D.C.
With six states in the Top 10, the 13-state Western region by far has elected women at a higher rate than the rest of the country over the last three-plus decades.
Women nominees have won 415 of the 1,587 general and special U.S. House elections conducted since 1989, or 26.1 percent.
That is just shy of twice the rate of any other region in the country with the Midwest coming in at 14.9 percent (243 of 1,627), the Northeast at 14.8 percent (225 of 1,517), and the South at the bottom at 10.5 percent (248 of 2,367). [Note: Delaware and Maryland are grouped with the Northeast for this study].
Eleven states have not elected women in even five percent of their U.S. House races since 1989 – five of which are in the South: Oklahoma (4.5 percent, four of 88), Arkansas (3.1 percent, two of 65), South Carolina (1.9 percent, two of 104), Louisiana (0.9 percent, 1 of 114), and Mississippi (0.0 percent, 0 of 74).
Alaska, Montana, Nebraska, North Dakota, Rhode Island, and Vermont have also not elected a woman to the chamber during this period.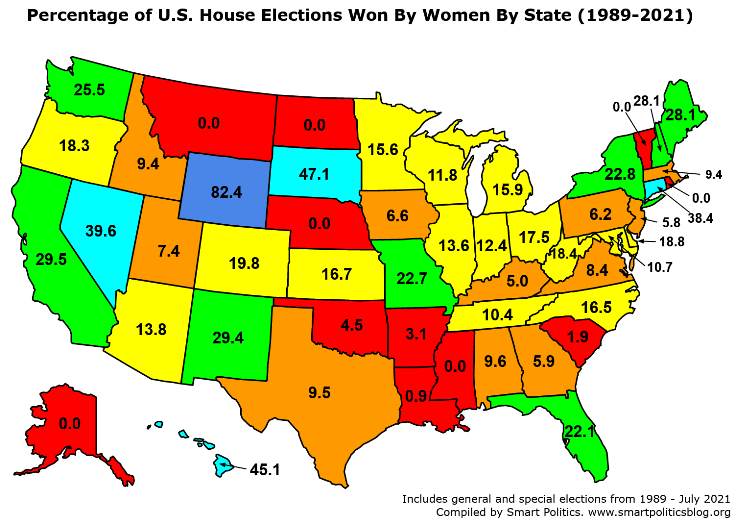 During the 105 years following the election of the first woman to the U.S. House in 1916, Alaska, Mississippi, North Dakota, and Vermont are the only states failing to do so even once.
Delaware got off this list in 2016 with the election of Democrat Lisa Blunt Rochester as did Iowa in 2018 with the election of Democrats Abby Finkenauer and Cindy Axne.
Follow Smart Politics on Twitter.