Poliquin vs Golden II: A Brief History of Maine US House Rematches
Defeated candidates have come back to win only one in eight rematch elections from Maine to the nation's lower legislative chamber since statehood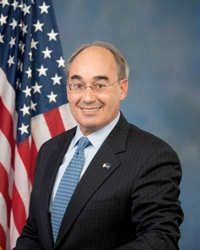 Last week, Bruce Poliquin, former two-term Republican U.S. Representative from Maine's 2nd Congressional District, announced he would seek a return to his old seat next November.
His campaign sets up a likely rematch between Poliquin and two-term Democratic incumbent Jared Golden who unseated the former lawmaker in 2018.
Poliquin, who is the last GOPer to win a U.S. House seat in Maine since James Longley in 1994, ended a Democratic Party record of 18 straight victories for the office in an open seat contest during the Republican-friendly 2014 midterms.
A second round between Golden and Poliquin would be the fourth rematch between major party U.S. House nominees in Maine since the turn of the 21st Century. Poliquin is seeking to become the first successful challenger in a Maine U.S. House rematch race since 1958 and just the third to score such a victory over the last 110+ years.
Overall, Maine has hosted 63 rematch elections among major party U.S. House nominees across 423 contests since statehood.
That means 14.8 percent of all U.S. House elections in Maine have seen two candidates square off for a second (or third) round at the ballot box, or slightly more than one in every seven elections.
Just eight of these 63 rematch attempts have been successful for the challenger and only two during the direct primary era (1912-).
Since 1912, 17 of the 154 U.S. House races in Maine have featured rematches between major party candidates (11.0 percent) with Democrat James Oliver the last to launch a successful rematch campaign in 1958.
Oliver, a former three-term Republican U.S. Representative (1937-1943), lost his 1st CD seat in congress in 1942 when Robert Hale defeated him in the GOP primary.
Twelve years later, Oliver was the 1st CD Democratic nominee but lost in successive elections to Hale in 1954 and 1956 – the latter by just 29 votes (also unsuccessfully contesting the election).
Buoyed by his narrow defeat, Oliver benefited from the Democratic-tilt of the 1958 midterms and finally defeated Hale – by 4.2 points – knocking the eight-term  incumbent out of office.
The only other successful rematch during the direct primary era was notched by former Republican Governor Ralph Brewster in 1934.
Two years prior, Brewster won his party's nomination over two-term GOP Rep. Donald Snow, but then narrowly lost the general election to former Bangor Mayor John Utterback by less than half a percentage point.
It was Brewster's turn to come out on top in 1934 with a 2.7-point win over the freshman incumbent.
Before the primary era (pre-1912), a total of 46 of 269 U.S. House elections were rematches, or 17.1 percent.
Six of those 46 races resulted in the politically vanquished eventually returning to the ballot box and scoring a victory:
1824 (2nd CD): Crawford Republican John Anderson defeated Adams Federalist Stephen Longfellow one cycle after losing an open seat race to him
1834 (3rd CD): Whig probate Judge Jeremiah Bailey beat Democratic incumbent Edward Kavanagh following a double-digit loss during the previous cycle
1843 (6th CD): Democratic attorney Hannibal Hamlin defeated freshman Whig Elisha Allen after losing to Allen in the previous cycle's 8th CD race
1850 (6th CD): Whig and former state Representative Israel Washburn won his first of five terms in 1850, unseating Democratic freshman Rep. Charles Stetson who beat Washburn in 1848
1910 (2nd CD): Democrat and former Lewiston Mayor Daniel McGillicuddy defeated John Swasey following his 1908 general election loss to the former GOP state legislator
1910 (3rd CD): Democratic attorney Samuel Gould unseated seven-term Republican Edwin Burleigh two years after their first matchup
Poliquin himself survived a rematch in 2016 when he defeated Democrat Emily Cain for the second consecutive cycle.
Democrats Mike Michaud (2nd CD) and Chellie Pingree (1st CD) also won rematches during the last decade against Republicans Kevin Raye (2002, 2012) and Mark Holbrook (2016, 2018) respectively.
Follow Smart Politics on Twitter.