Will Adam Laxalt Add His Name to a Short List in 2022?
Only two major party nominees in Nevada history have lost both gubernatorial and U.S. Senate elections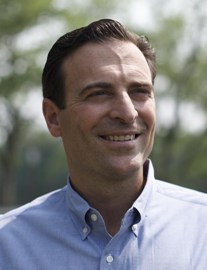 Former Nevada Attorney General Adam Laxalt launched his 2022 campaign for U.S. Senate on Tuesday as the GOP attempts to unseat first-term Democratic incumbent Catherine Cortez Masto.
Laxalt came within 4.1 points of holding the state's open gubernatorial seat in 2018 during a Democratic mid-term wave and is now heavily favored to win the GOP nomination again four years later.
However, Senator Cortez Masto will likely be favored in the general election; if Laxalt loses, he will become just the third Nevada Democrat or Republican to become a failed nominee for both governor and U.S. Senator.
The last major party nominee to lose general elections for each of these offices was Republican Ed Fike more than a half century ago.
Fike, a former Clark County Assemblyman and sitting Lieutenant Governor, ran for the U.S. Senate in 1968 to take on three-term Democrat Alan Bible.
Fike won a competitive GOP primary against Washoe County District Attorney Bill Raggio by 7.6 points but lost the general election to Senator Bible by 9.5 points.
Two years later, at the end of his term as Lieutenant Governor, Fike easily won the GOP nomination for Governor against political novice Margie Dyer, a homemaker from Sparks who was the first woman to appear on a Nevada gubernatorial ballot.
But Fike narrowly lost the open seat general election race to Carson City consultant firm head and former Henderson schoolteacher Mike O'Callaghan by 4.3 points.
The only other Nevada Democrat or Republican to lose general elections for both prominent offices comes with an asterisk – as he also won elections to them both.
Republican Tasker Oddie was elected governor in 1910 but lost his reelection bid in 1914 to state Tax Commissioner and former state engineer Emmet Boyle. Oddie was nominated by the GOP for the office for a third straight cycle in 1918 but lost his rematch against Boyle.
Oddie was back on the ballot in 1920, this time winning his first of two elections to the U.S. Senate. He was defeated in his bid for a third term to the chamber during the 1932 Democratic tsunami by state Board of Bar Examiners Chairman (and former state Supreme Court Justice) Pat McCarran. Oddie also lost the subsequent rematch against McCarran in 1938.
Nearly a dozen other Nevadans have lost bids for U.S. Senate and governor – but were not nominated by Democrats or Republicans for at least one of these offices:
Former Republican Assemblyman and state Supreme Court Justice William Massey: Lost the 1910 primary for governor and the 1912 U.S. Senate general election
Four-term Republican U.S. Representative Edwin Roberts: Lost the 1918 U.S. Senate special election, the 1926 U.S. Senate primary, and the 1930 primary for governor
Democratic Lieutenant Governor Vail Pittman: Lost the 1944 primary for U.S. Senate and the 1950 and 1954 gubernatorial general elections (after serving four years as Governor)
Democratic newspaper reporter Thomas Mechling: Lost the 1952 U.S. Senate general election and the 1954 primary for Governor
Democratic Clark County Commissioner George Franklin: Lost the 1950 U.S. Senate primary and the 1958 gubernatorial primary
Democratic Attorney General Harvey Dickerson: Lost the 1956 U.S. Senate primary and the 1958 gubernatorial primary
Democrat/Republican state worker's compensation program director Pat Fitzpatrick: Lost the 1988 and 1992 U.S. Senate primaries and the 1998 gubernatorial primary
Democrat/Republican Las Vegas sanitation worker Carlo Poliak: Lost the 1994, 1998, and 2002 gubernatorial primaries and the 2004, 2010, 2012, and 2016 U.S. Senate primaries
Republican/Democrat retired auto executive Eddie Hamilton: Lost the 2006, 2010, 2012, and 2016 U.S. Senate primaries and the 2014 primary for governor
Republican real estate investor Gary Marinch: Lost the 2010 U.S. Senate primary and the 2014 gubernatorial primary
Republican retired minister Bill Tarbell: Lost the 2014 primary for governor and the 2016 U.S. Senate primary
Laxalt faces only nominal opposition in the GOP race to this point with Reno businessman and U.S. Army veteran Sam Brown and modeling talent agency owner Sharelle Mendenhall the only other Republicans in the race.
Follow Smart Politics on Twitter.