Rebecca Kleefisch and a Review of Wisconsin Gubernatorial Bids by Lieutenant Governors
Just three sitting or former lieutenant governors in the state first became governor via the ballot box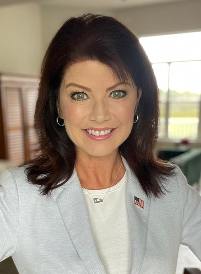 On Thursday, former Wisconsin Lieutenant Governor Rebecca Kleefisch made it official, launching her campaign to be the Republican nominee in the state's 2022 gubernatorial election.
Kleefisch served eight years under Governor Scott Walker before their ticket was narrowly defeated by Tony Evers and Mandela Barnes in 2018.
And now, in what is currently a thin GOP field, Kleefisch is the decided front runner to take on Evers at the top of the ticket next year.
Wisconsin Republicans are hoping for a midterm cycle bounce – not an unreasonable expectation considering the poor record Wisconsin gubernatorial nominees of the party of the sitting president have endured over the last 90 years: winning just five of 33 elections since 1932.
But the track record of Wisconsin lieutenant governors ascending to the state's top office – barring those who did so after the death or resignation of the governor – has been quite rare over the decades.
Over the last 170+ years since statehood, just three former or sitting lieutenant governors first earned their gubernatorial stripes via the ballot box.
Seven lieutenant governors succeeded their predecessors following the governor's departure before the end of the term:
Democrat Arthur MacArthur in 1856 (following the resignation of William Barstow)
Republican Edward Salomon in 1862 (following the death of Louis Harvey)
Republican James Davidson in 1906 (following the resignation of Robert La Follette to become U.S. Senator)
Republican Walter Goodland in 1943 (following the pre-inauguration death of Progressive Orland Loomis)
Republican Oscar Rennebohm in 1947 (following the death of Walter Goodland)
Democrat Martin Schrieber in 1977 (following the resignation of Patrick Lucey to become U.S. Ambassador to Mexico)
Republican Scott McCallum in 2001 (following the resignation of Tommy Thompson to become U.S. Secretary of Health and Human Services)
MacArthur, who served just four days after the controversial gubernatorial Election of 1855, never ran for governor outright.
Three others lost their first subsequent gubernatorial bids: Salomon lost the GOP nomination in 1863 to former Lieutenant Governor James Lewis, Schrieber lost the 1978 general election to Lee Dreyfus, and McCallum lost the 2002 general election to Jim Doyle.
Three incumbents who became governor via succession did win another term: Davidson in 1906 and 1908, Goodland in 1946, and Rennebohm in 1948.
In addition to the failed gubernatorial bids by Salomon, Schrieber, and McCallum, four other lieutenant governors also fell short of the mark:
1920: Sitting Republican LG Edward Dithmar (1915-1921) placed a distant fifth in the GOP primary with 8.3 percent – more than 20 points behind John Blaine
1940: Former Progressive LG Henry Gunderson (1937) was last in the five-candidate Progressive primary won by Orland Loomis with just 9.4 percent
1966: Sitting Democratic LG Patrick Lucey (1965-1967) fell 7.4 points shy of unseating Governor Warren Knowles in his first gubernatorial run
1970: Sitting Republican LG Jack Olson (1963-1965, 1967-1971) lost to Lucey in a matchup of two LGs
That leaves just three sitting or former lieutenant governors who first became governor via election:
1863: Republican James Lewis (1854-1856) who previously served as a Democratic lieutenant governor
1964: Republican Warren Knowles (1961-1963) who unseated Governor John Reynolds
1970: The aforementioned Democrat Patrick Lucey (1965-1967) on his second attempt in an open seat race
Evers has won four statewide general elections – three times for the Superintendent of Public Instruction (2009, 2013, 2017) and once for governor (2018).
Kleefisch did so three times for lieutenant governor (2010, 2012's recall, and 2014).
Follow Smart Politics on Twitter.