Iowa GOP Eyes 5th Straight US Senate Win
Only once in the direct election era have Iowa Republicans won more than four consecutive elections for the office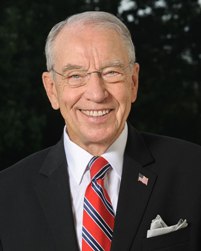 All signs point to Iowa U.S. Senator Chuck Grassley running for an eighth term next year which would likely take a GOP-held seat off the table for Democrats who are looking to maintain or bolster their slimmest-of-slim margins controlling the nation's upper legislative chamber.
Grassley – who has never faced a primary opponent as an incumbent senator – will first have to dispense with state Senator Jim Carlin next June.
The long-serving legislator has never won less than 60 percent of the general election vote as an incumbent.
Although Democrats still hold three statewide offices (long-serving constitutional officers Treasurer Michael Fitzgerald and Attorney General Tom Miller plus Auditor Rob Sand), the battleground state is considered to have a red lean nowadays with the GOP holding large advantages in both state legislative chambers and winning back-to-back presidential races for the first time since Ronald Reagan.
Additionally, should Grassley keep this seat in his party's hands, it will mark just the second time in the direct election era that Iowa Republicans have won at least five consecutive U.S. Senate elections.
Since the state's first direct election for the office in 1914, the GOP has won 25 of 39 U.S. Senate elections in Iowa.
The only period during which Republicans rattled off five or more straight wins was more than a half-century ago, from 1950 through 1966, with four of these being single-digit affairs:
1950: Senator Bourke Hickenlooper won a second term by 10.1 points against former Assistant Secretary of Agriculture Albert Loveland
1954: Congressman Thomas Martin unseated Senator Guy Gillette by 4.7 points
1956: Senator Hickenlooper won a third term by 7.8 points over former Federal Reserve Board member Spike Evans
1960: Attorney Jack Miller defeated Governor Hershel Loveless by 3.8 points
1962: Hickenlooper was elected to a fourth term by 6.8 points over history professor E.B. Smith
1966: Senator Miller won a second term with a 23.1-point win against E.B. Smith in his second U.S. Senate campaign
Since then, and prior to the current streak, Iowa Republicans won back-to-back races just once: in 1978 (Roger Jepsen) and 1980 (Grassley).
The party came close to winning five in a row at the onset of the direct election era, winning four straight races in 1914 (Albert Cummins), 1918 (William Kenyon), 1920 (Cummins), and 1922 (Smith Brookhart).
It appeared that Republicans had won a fifth consecutive race in 1924's general election with Senator Brookhart edging Democratic attorney Daniel Steck. But Steck successfully contested the election – even with a GOP majority ruling the chamber – and was seated about a year after the start of the 69th Congress.
Democrats have won four U.S. Senate elections in a row once: in 1932 (Richard Murphy), 1936 (Clyde Herring), 1936 special (Guy Gillette), and 1938 (Gillette).
From the mid-1850s through the pre-direct election era, Republicans swept every U.S. Senate contest in the state.
Follow Smart Politics on Twitter.