On Shaky Gubernatorial Ground?
Three sitting governors were victorious with the lowest percentage of the vote in their state in more than 80 years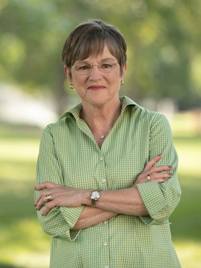 On the campaign trail for governor in 2022 and 2023 are a handful of incumbents who won their first term with historically tepid support from their electorate.
Iowa Republican Kim Reynolds, Kansas Democrat Laura Kelly (pictured), Kentucky Democrat Andy Beshear, and South Dakota Republican Kristi Noem all were elected with modest winning percentages that no victorious candidate for the office had seen in their respective states in several decades.
Due in part to an expected push-back toward the GOP during the 2022 midterms (after a pull-back during the 2018 midterms under Donald Trump) both Governors Reynolds and Noem are therefore heavily favored to win reelection next November. [No Democratic opponent has currently launched a bid against Noem in a state where the party has only won eight contests since statehood in 1889].
Governors Kelly and Beshear, meanwhile, are governing red states and are expected to face strong competition to hold their seats.
In Kentucky's 2019 election, Beshear unseated the unpopular GOP governor Matt Bevin by 0.4 points with 49.2 percent of the vote.
That marked the least support for a winning ticket for governor since former six-term Democratic U.S. Representative Augustus Stanley claimed 49.1 percent of the vote in his 1915 victory against Edwin Morrow – an orator and former U.S. attorney for the Eastern District of Kentucky.
No other winning candidate for governor in Kentucky won with a smaller plurality in the state since the turn of the 20th Century.
Presenting herself as a more moderate candidate against two-term GOP Secretary of State Kris Kobach, state Senator Laura Kelly was able to persuade enough of Kansas' electorate to claim a 5.0-point victory with 48.0 percent of the vote in 2018 – with independents and third party candidates garnering a collective 9.0 percent.
Kansans had not elected a governor with less support since GOP oil and gas executive Alf Landon eked out a 0.7-point win against Democratic Governor Harry Woodring with just 34.8 percent of the vote in 1932. Controversial surgeon and radio station owner John Brinkley placed a close third as an independent with 30.6 percent.
The incumbency advantage may have been slight for Iowa's Kim Reynolds in 2018, but it was enough to garner her a majority of 50.3 percent against businessman Fred Hubbell.
That was the least support for a winning gubernatorial candidate since Democratic Lieutenant Governor Nelson Kraschel escaped with a 0.2-point win with 48.6 percent of the 1936 vote for governor against state Senator George Wilson.
Reynolds' 50.3 percent stands as the lowest support for a winning Republican gubernatorial candidate since Governor George Clarke was reelected in 1914 with 49.3 percent.
South Dakotans, meanwhile, gave congresswoman Kristi Noem 51.0 percent of their vote in her open seat race against Democratic state Senator Billie Sutton in 2018.
Sutton's 47.6 percent was the best showing by a Democratic nominee for the office in South Dakota since the party last won the state behind Governor Richard Kneip in 1974 en route to his third and final term.
Noem's support was the lowest for a winning nominee in nearly 60 years. In 1960, GOP State Representative Archie Gubbrud unseated Governor Ralph Herseth by 1.5 points with the backing of 50.7 percent of South Dakota voters that cycle.
In counterpoint to this quartet of governors, Hawaii Democratic Governor David Inge was reelected in 2018 with 62.7 percent of the vote – the most support ever garnered in a gubernatorial race in state history. Inge bested Republican Linda Lingle's 62.5 percent mark recorded during her 2006 reelection win.
Follow Smart Politics on Twitter.