Evan McMullin and a Review of Non-Major Party Utah US Senate Candidacies
Just one of 50 independent or third-party Utah U.S. Senate candidates has notched double-digit support in state history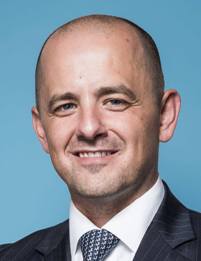 Nearly five years after his failed presidential bid, Utah's Evan McMullin announced on Tuesday he was launching an independent campaign for the state's Class III U.S. Senate seat to oust two-term Republican Mike Lee.
While McMullin did garner 21 percent of the vote in his home state during the 2016 presidential race and Senator Lee has generally received underwhelming approval rating scores from his constituents over the last year, at first blush it seems like it will be a tall order for the former CIA officer to have a meaningful impact on the race.
Across the 36 U.S. Senate elections in the state conducted since 1914, there have been 50 independent or third party candidacies for the office.
Of these 50 candidates, just one reached double digits and only two others won more than five percent of the vote.
The high water mark for non-major party U.S. Senate campaigns in Utah was set by Brack Lee in 1958.
Lee – a former two-term Republican governor (1949-1957) – had lost the GOP nomination in his bid for a third term in 1956 to engineer George Clyde. Lee subsequently ran as an independent in the general election and garnered 28.4 percent of the vote.
Two years later, Lee received the support of 26.4 percent of Utah voters in his independent campaign for the U.S. Senate in which Democratic Salt Lake County Attorney Frank Moss unseated two-term Republican Arthur Watkins.
The only other two U.S. Senate hopefuls from Utah to win five percent of the vote were American Party nominee and kitchen appliance factory maintenance man Bruce Bangerter in 1974 with 5.9 percent and Constitution Party nominee and former AT&T executive Scott Bradley in 2010 with 5.7 percent.
The average support for third party and independent candidates in the state since 1914 has been 2.1 percent. More than half of these 50 candidates – 26 – failed to win one percent of the general election vote.
It should also be noted that it has been quite some time since a non-major party U.S. Senate candidate in Utah arguably tipped an election.
In only four of 36 elections has the margin of victory in a Utah U.S. Senate race been eclipsed by the cumulative vote for non-major party candidates – with the last such election taking place nearly a half-century ago:
In 1914, Republican U.S. Senator Reed Smoot defeated Salt Lake Democratic attorney James Moyle by 2.8 points while Weber County Socialist Central Committee Secretary J.F. Parsons won 4.6 percent
In 1922, Democratic U.S. Senator William King won a second term with a 0.5-point victory against mining engineer Ernest Bamberger with former state Socialist executive committee member Charles Stoney claiming 3.2 percent
In 1958, former Republican turned independent Brack Lee's 26.4 percent was significantly greater than Frank Moss' 3.9-point win over Senator Arthur Watkins to flip the seat to the Democrats
In 1974, the aforementioned Bruce Bangerter's 5.94 percent eclipsed the 5.92-point victory margin by Republican Salt Lake City Mayor Jake Garn over Democratic U.S. Representative Wayne Owens
Still, of those four contests, only the outcomes of the 1914 and 1958 elections were likely impacted by the presence of non-major party candidates on the ballot.
One wonders if the 2022 Utah election could eventually take the path of Kansas' 2014 race in which the Democratic nominee – Shawnee County District Attorney Chad Taylor – withdrew from the race to consolidate support behind independent Greg Orman against GOP incumbent Pat Roberts.
There are currently no high-profile, establishment Utah Democrats (former or current officeholders or party leaders) running for their party's nomination.
Follow Smart Politics on Twitter.