Michele Fiore and a Review of Women Gubernatorial Candidates in Nevada
Eighteen women launched 20 primary campaigns for governor prior to the current 2022 cycle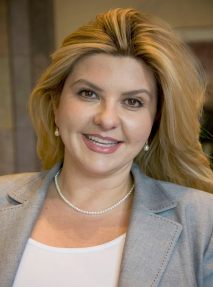 The crowded field to win the 2022 Republican gubernatorial nomination in Nevada just added another well-known name in state politics.
On Tuesday, Las Vegas Councilwoman and former state Assemblywoman Michele Fiore joined a long list of GOP hopefuls, headed by former U.S. Senator Dean Heller and Clark County Sheriff Joe Lombardo.
Eight Republicans are now in the race – a high water mark reached twice before by the party on the primary ballot during the 1990 and 2018 cycles (with nominations won by businessman Jim Gallaway and Attorney General Adam Laxalt respectively).
The Las Vegas lawmaker undoubedtly has the ideological credentials to run to the right of Heller and most of her fellow Republican gubernatorial hopefuls.
Fiore – who twice lost her party's nomination for congress bookending her two terms in the Assembly – is the only woman currently vying for the GOP nod.
Since the first woman appeared on a Nevada gubernatorial primary ballot in 1970, women have won four of the 26 major party nominations for the office:
1974 (Republican): Tax accountant and real estate broker Shirley Crumpler won a four-candidate primary with a plurality 49.5 percent, but was trounced by 50.3 points by Governor Mike O'Callaghan that November. Crumpler's 17.1 percent was the second lowest support for a major party nominee for governor in state history ahead of only Theodore Winters' 6.5 percent fourth place finish in 1894 behind Silver, GOP, and Populist nominees.
1986 (Republican): State Treasurer Patty Cafferata easily defeated four others in the GOP primary with a plurality 46.1 percent only to lose by 46.9 points to Governor Richard Bryan with 25.0 percent of the vote
1998 (Democratic): Las Vegas Mayor Jan Jones was victorious in a party record nine-candidate field with 59.6 percent in her second run for the office but lost an open seat race to Southwest Gas Corporation Chairman of the Board and former Clark County School District Superintendent Kenny Guinn by 9.6 points in the general election
2006 (Democratic): State Senator Dina Titus beat Henderson Mayor Jim Gibson by 17.7 points in a three-way race in her party's primary but narrowly lost the open seat general election to U.S. Representative Jim Gibbons by 4.0 points
Prior to 2022, women have sought the Democratic or Republican gubernatorial nomination in Nevada 20 times – 10 each for the Republicans and Democrats.
In addition to the four primary victories listed above, women candidates placed second in the race for their party's nomination six other times.
Sparks homemaker Margie Dyer was the first woman to run for governor in the state, winning 11.8 percent in a two-way race against Republican Lieutenant Governor Ed Fike in 1970.
Other runner-up candidates were:
1994 (Democratic): The aforementioned Las Vegas Mayor Jan Jones with 27.9 percent in a six-candidate field behind Governor Bob Miller
1994 (Republican): Secretary of State Cheryl Lau with 32.3 percent losing to Assemblyman Jim Gibbons
2002 (Democratic): Former Las Vegas dancer Barbara Scott with 21.3 percent trailing state Senator Joe Neal (also behind 'None of these Candidates') during her second run for the office
2002 (Republican): Former court reporter Shirley Cook with 6.6 percent in a very distant second place to Governor Guinn
2018 (Democratic): Clark County Commissioner and former Assemblywoman Chris Giunchigliani with 38.9 percent behind fellow Commissioner Steve Sisolak
The remaining women candidates for governor include:
1974 (Democratic): Former Ziegfield Follies dancer Olga Covelli placed third out of six candidates with 2.1 percent
1982 (Democratic): Political newcomer June Carr of Las Vegas placed fourth with 1.6 percent in a six candidate field
1982 (Democratic): Las Vegas resident Cher Volin placed fifth with 0.6 percent
1986 (Republican): Former Nye County Sheriff Joni Wines placed third out of five candidates with 8.2 percent
1994 (Republican): Real estate businesswoman Suzanne Nounna placed last in a six-candidate field with 0.9 percent
1998 (Democratic): In her first gubernatorial campaign, Las Vegas dancer Barbara Scott won 3.1 percent in fourth place out of nine candidates
2006 (Republican): Two-term Lieutenant Governor Lorraine Hunt placed third in a five-candidate field with 17.9 percent
2006 (Republican): Retired adult film actress Melody Damayo placed fourth with 1.2 percent
2006 (Democratic): Bodybuilder and professional dominatrix Leola McConnell placed last in the three-candidate field with 4.2 percent
2018 (Republican): Businesswoman Stephanie Carlisle finished in fourth out of eight candidates with 4.5 percent
No woman has appeared on a Nevada general election ballot for governor as an independent or third party nominee of the 37 candidates to do so since statehood.
Follow Smart Politics on Twitter.