Which States Nominate the Most Women for Governor?
Democrats have nominated women for the office at nearly twice the rate as the GOP over the last half-century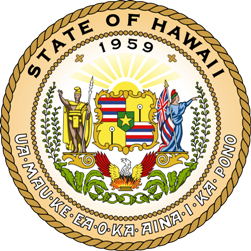 Buoyed largely by a record number of Republican women elected to the U.S. House in 2020, the number of women in the 117th Congress eclipsed 25 percent for the first time in history.
However, the percentage of women governors continues to lag behind that measure, with just nine currently holding the top elected office across the 50 states (18 percent).
This report examines the nearly 1,400 major party nominations for governor won over the last half-century since 1970. [Prior to the 1970s, only three women were elected governor and nominations were quite rare].
Overall, women have won 136 of 1,381 Democratic or Republican nominations for governor over the last 51 years, or 9.8 percent.
[Note: The denominator for this analysis was the number of major party gubernatorial nominees who appeared on the general election ballot. In the case of Louisiana, in which there were a few cycles in which no general election was held, a Democratic or Republican woman candidate was counted if she placed in the Top Two of the jungle primary].
The Democratic Party has been nearly twice as likely as the GOP to nominate women to the office – doing so 88 of 692 times since 1970 (12.7 percent). Women have won the Republican nomination just 48 of 689 times during this period under analysis (7.0 percent).
Unlike their counterparts in Congress, the percentage of women being nominated by major parties to the office of governor has basically been flat for a generation.
In the 1970s, just six of the 298 Democratic and Republican gubernatorial nominees were women, or 2.0 percent.
That number nearly trebled during the 1980s (14 of 242, 5.8 percent) and then more than doubled during the 1990s (40 of 288, 13.9 percent).
But in the 2000s, 13.7 percent of major party nominations were won by women (32 of 234) followed by 14.0 percent during the 2010s (41 of 293).
During the first two years of the 2020s, women have received three of 26 nods, or 11.5 percent.
There has, of course, been a fair bit of variation between the states with Democrats and Republicans not nominating a woman for governor even once in seven states (since 1970 or before): Arkansas, Minnesota, Mississippi, New York, Ohio, Tennessee, and Utah.
Hawaii leads the nation, with women receiving six out of 26 Democratic and Republican nominations for governor since 1970, or 23.1 percent.
Hawaii is also one of the few states to have hosted an election with two women major party nominees squaring off during the same cycle: in 2002's open seat race, former Maui County Mayor Linda Lingle defeated two-term Lieutenant Governor Mazie Hirono by 4.5 points.
Other general election gubernatorial matchups between two women include:
Nebraska (1986): Republican Treasurer Kay Orr beat former Democratic Lincoln Mayor Helen Boosalis by 5.9 points
New Mexico (2010): Long-serving Republican Doña Ana County District Attorney Susana Martinez defeated two-term Democratic Lieutenant Governor Diane Denish by 6.7 points
Oklahoma (2010): Former three-term Republican Lieutenant Governor and sitting two-term U.S. Representative Mary Fallin routed sitting Democratic Lieutenant Governor Jari Askins by 20.9 points.
Three states are tied with the second highest rate of nominating women for governor at 19.2 percent: Arizona (five of 26), Connecticut (five of 26), and Vermont (10 of 52).
Alaska rounds out the Top Five at 16.0 percent (four of 25 major party nominations).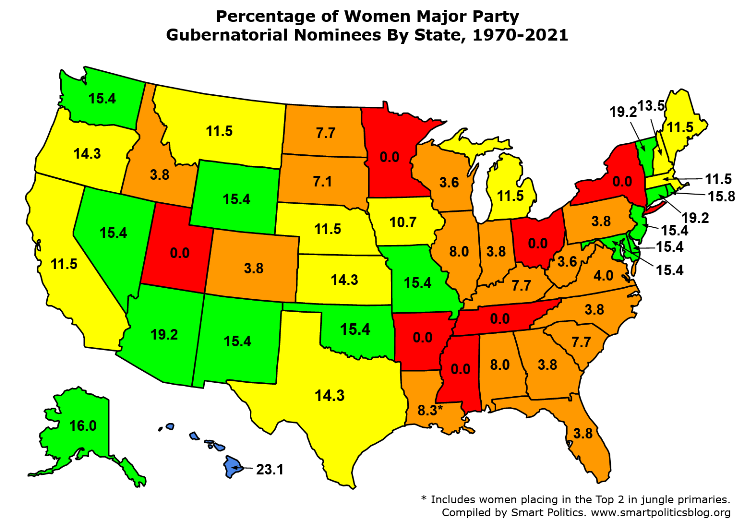 A record 16 women were nominated for governor by major parties during the last midterm election cycle (2018).
In 2022, eight sitting female governors are running for another term: Republicans Kay Ivey of Alabama, Kim Reynolds of Iowa, and Kristi Noem of South Dakota plus Democrats Laura Kelly of Kansas, Janet Mills of Maine, Gretchen Whitmer of Michigan, Michelle Lujan Grisham of New Mexico, and Kathy Hochul of New York.
Of these eight, only Hochul is expected to face a closely contested fight for her party's nomination.
Women candidates are also expected to launch competitive primary bids in states such as Arizona (Republicans Kari Lake and Treasurer Kimberly Yee; Democrat Secretary of State Katie Hobbs), Colorado (Republican Heidi Ganahl), Florida (Democratic Commissioner of Agriculture Nikki Fried), Idaho (Republican Lieutenant Governor Janice McGeachin), Nebraska (Democratic state Senator Carol Blood), Ohio (Democratic Dayton Mayor Nan Whaley), Oklahoma (Democratic Superintendent of Public Instruction Joy Hofmeister), Oregon (Democratic state House Speaker Tina Kotek), Rhode Island (Democratic Secretary of State Nellie Gorbea), and Wisconsin (former Republican Lieutenant Governor Rebecca Kleefisch).
Follow Smart Politics on Twitter.