The Closest Gubernatorial Elections in New Jersey History
The 2021 contest will likely end up just outside the Top 3 most competitive in state history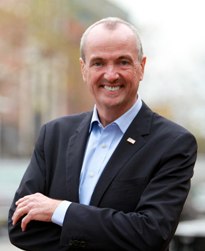 The extremely tight race for governor in New Jersey raised eyebrows this week, with the razor-thin race eventually ending up with a narrow victory for Democratic incumbent Phil Murphy against GOP challenger Jack Ciattarelli.
When all votes are counted, Murphy's advantage will likely end up just north of a percentage point, but the 2021 contest will go down as one of the most competitive races for New Jersey's top elected office in state history.
Prior to this cycle, just three of New Jersey's 53 gubernatorial elections had been decided by less than one percentage point.
In 1880, Democratic state Senate President George Ludlow edged Republican railroad executive and former state Senator Frederic Potts by 0.26 points.
In 1934, former GOP U.S. Representative and South Amboy Mayor Harold Hoffman survived the continuing Democratic wave with a 0.90-point win against 1928 Democratic nominee and former Court of Errors and Appeals Judge William Dill.
The closest election for the office in state history took place in 1981. Former Republican state Assemblyman Thomas Kean beat four-term Democratic U.S. Representative (and future Governor) Jim Florio by 0.08 points (separated by just 1,797 votes).
Six other elections recorded victory margins of less than two percentage points:
1844: In the state's first direct election for governor, former Whig U.S. Representative Charles Stratton defeated Democratic railroad executive John Thomson by 1.9 points
1859: Republican and former state Senator John Olden beat Democratic attorney and Hudson Mayor Edwin Wright
1898: Republican state Senate President and Acting Governor Foster Voorhees edged Essex County prosecutor Elvin Crane by 1.6 points
1961: Democrats won their third consecutive gubernatorial contest for the first time since the 1890s as attorney and former Superior Court Judge Richard Hughes bested U.S. Labor Secretary James Mitchell by 1.6 points
1993: Former state Board of Public Utilities President Christine Todd Whitman unseated Democratic Governor Jim Florio by 1.0 points
1997: Governor Whitman won a second term with a 1.1-point win over state Senator Jim McGreevey
Including the 2021 cycle, 35 of the 54 New Jersey gubernatorial elections in state history have been decided by single digits.
The average victory margin has been 8.8 points.
Follow Smart Politics on Twitter.