Chris Sununu Eyes New Hampshire Record in 2022
New Hampshire's governor is poised to become the state's first four-term GOP governor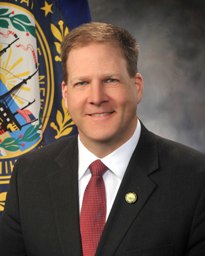 New Hampshire Governor Chris Sununu's decision this week not to run for the U.S. Senate has made it more difficult for the GOP to flip Maggie Hassan's seat in 2022, but it has also virtually solidified the party's hold on the governorship come 2023.
Sununu – one of several popular northeastern Republican governors – nearly doubled up on his 2020 opponent, state Senator Dan Feltes, with 65.1 percent of the vote en route to a third term a year ago even with Joe Biden carrying the state by more than seven points.
If reelected, Sununu would become the first Republican in state history to win four gubernatorial elections and also the longest-serving member of his party to hold the office.
Governor Sununu is currently one of four New Hampshire Republicans to win election to three gubernatorial terms:
State Senator John Winant (1925-1927; 1931-1935): Elected in 1924, 1930, and 1932, Winant lost the 1926 GOP nomination to state Board of Education President Huntley Spaulding in between his three nonconsecutive terms
Publisher Mel Thomson (1973-1979): Elected in 1972, 1974, and 1976, Thomson lost his bid for a fourth term in 1978 to auto dealer and state Representative Hugh Gallen
Former state Representative and engineering company president John Sununu (1983-1989): Elected in 1982, 1984, and 1986, the elder Sununu did not seek a fourth term
Only one Democrat has won four gubernatorial elections in New Hampshire history: furniture manufacturer executive and University System Board of Trustees Chair John Lynch was elected in 2004, 2006, 2008, and 2010.
Lynch recently dealt a blow to his party by stating he would not seek the governorship in 2022.
If Governor Sununu is reelected and serves out the entirety of his fourth term, he would tie Lynch for most elections won to two-year terms in the state. [New Hampshire switched its gubernatorial terms from one to two years in 1878].
In any case, Sununu is a long ways from becoming New Hampshire's all-time longest-serving statehood governor.
That title belongs to Federalist John Gilman, who won 14 single-year terms and served for 14 years and six days from 1794-1805 and 1813-1816 (which is also good for the 14th longest gubernatorial tenure in U.S. history).
A few other New Hampshire governors won four-plus elections to single-year terms:
Anti-Federalist Josiah Bartlett (4): 1790, 1791, 1792, 1793
Democratic-Republican John Langdon (6): 1805, 1806, 1807, 1808, 1810, 1811 (plus pre-statehood victories in 1785 and 1788)
Democratic-Republican William Plummer (4): 1812, 1816, 1817, 1818
Democratic-Republican Samuel Bell (4): 1819, 1820, 1821, 1822
Democrats seemed gun-shy to jump into the race while Sununu's 2022 intentions remained unclear. Will launching a campaign for the Democratic nomination seem even less tempting now that Sununu is running for a fourth term?
Follow Smart Politics on Twitter.