How Bright Is the Democratic Future in Arizona?
The party has a non-trivial chance at ending one of the nation's longest electoral droughts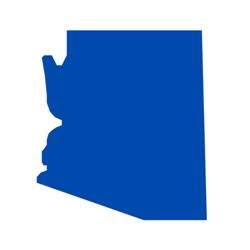 The odds may be even at best, but Democrats in Arizona have a chance to record a feat that they last enjoyed more than 70 years ago – simultaneously holding both U.S. Senate seats and the governorship.
Arizona Democrats notched their first U.S. Senate delegation sweep since 1952 for the 117th Congress, but freshman Mark Kelly is up for reelection in November in what is expected to be a competitive race against whomever emerges from the crowded GOP field.
Meanwhile, Democratic Secretary of State Katie Hobbs is heavily favored to become her party's nominee in what should also be a competitive general election.
Should Arizona Democrats win both of those races, it would mark the first time since 1950 in which the party controlled the governorship (Dan Garvey) and both U.S. Senate seats (Carl Hayden and Ernest McFarland) in the state.
Arizona has the seventh longest drought in the nation by this measure.
Democrats in Kansas and Vermont have yet to accomplish this feat – never simultaneously controlling both U.S. Senate seats at any point in state history.
New Hampshire last did so in 1855 when Democrat Nathaniel Baker governed the state and Jared Williams and John Wells legislated in Washington D.C.
Democrats hold both U.S. Senate seats in the Granite State – with Maggie Hassan on the ballot in 2022 – but Republican Governor Chris Sununu remains very popular so this streak is unlikely to be broken this cycle.
Three other states last saw Democrats overlap in each office more than 75 years ago:
Iowa (1938): Governor Nelson Kraschel and Senators Guy Gillette and Clyde Herring
Idaho (1946): Governor Arnold Williams and Senators Glen Taylor and Charles Gossett (after Gossett resigned as governor and filled the vacancy caused by the death of Republican John Thomas via 'self-appointment')
Utah (1946): Governor Herbert Maw and Senators Elbert Thomas and Abe Murdock
[Note: Had Arlen Specter not switched parties late in his senatorial career in 2009, Pennsylvania Democrats would last have had a lock on all three seats in 1848].
Democrats currently control both U.S. Senate seats and the governorship in 15 states: California, Colorado, Connecticut, Delaware, Hawaii, Illinois, Michigan, Minnesota, Nevada, New Jersey, New Mexico, New York, Oregon, Rhode Island, and Washington.
The party most recently controlled each of these offices at the same time in Virginia in 2021 and in Maryland, Massachusetts, Montana, and West Virginia in 2014.
Follow Smart Politics on Twitter.