How Low Could the Democrat's US Senate Numbers Go?
Even if Biden's midterm nightmare comes to fruition, he would still enjoy more support in the U.S. Senate than some of his Democratic predecessors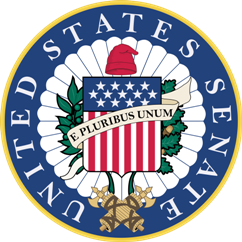 As Democratic strategists continue to warn of an electoral bloodbath facing their party in the 2022 midterms, there is little debate as to whether the GOP will take control of the U.S. House. However, due to Republicans having to defend many more seats in the U.S. Senate, the likely range of net Democratic losses in that chamber may be none to just a few seats.
Of course, with no margin for error, a net loss of just one seat would shift control of the body back to Mitch McConnell and the Republicans.
But even if Republican gains are substantial and every toss-up seat goes their way, President Joe Biden will not face the largest opposition in the U.S. Senate by a Democratic president.
If, say, the GOP flips seats in Arizona (Mark Kelly), Georgia (Raphael Warnock), Nevada (Catherine Cortez Masto), and New Hampshire (Maggie Hassan) and holds each of their 21 seats on the ballot, Biden would still have 46 U.S. Senators caucusing with his party (44 Democrats and two independents).
Three Democratic presidents have seen their party put up worse numbers in the chamber over the last two centuries.
After Bill Clinton was reelected to a second term in 1996, only 45 Democrats populated the U.S. Senate during the 105th Congress (1997-1998) and more than half of the 106th Congress (prior to the appointment of Democrat Zell Miller in Georgia in July 2000).
Grover Cleveland faced similar numbers after taking office during the 49th Congress (1885-1886) when Democrats held just 34 of 76 seats (44.7 percent) and in his second term during the 54th Congress (1895-1896) when his party claimed 40 of 90 seats (44.4 percent).
Despite his clear and convincing victory over Henry Clay to win reelection in 1832, Andrew Jackson saw only 20 of 48 seats held by the Jacksonians/Democrats during the 23rd Congress (41.7 percent).
Eight Democratic presidents have enjoyed the good fortune of never seeing their party lose the majority in the U.S. Senate during their administrations: Martin Van Buren, James Polk, Franklin Pierce, James Buchanan, Franklin Roosevelt, John Kennedy, Lyndon Johnson, and Jimmy Carter.
Cleveland and Clinton are the only two Democratic presidents under which their party was in the minority during more than half of their administration.
Although slimming, there is still a pathway for Democrats to preserve control of the U.S. Senate after 2022 and thus ensure President Biden has a much easier road to push through, for example, judicial appointments.
To offset any losses in the aforementioned states, Democrats are hoping that pick-ups are still within reach in open seats in North Carolina and Pennsylvania and against Senator Ron Johnson in Wisconsin.
Democratic pick-ups in more conservative states – like Missouri and Ohio – almost exclusively hinge on Republicans nominating the most controversial candidate in their respective primary. That is a possibility, but even then the race would likely be a toss-up.
Follow Smart Politics on Twitter.