Alaska, Illinois Could See Unusual Three-Peat This November
Over the last 50 years, governors have been knocked out of office in three straight elections in just four states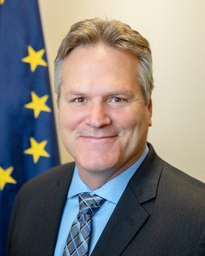 For every midterm election cycle going back more than a century to 1914, at least two governors have failed in their bid for another term, averaging 6.6 governors during this 27-cycle span.
That streak should easily be extended in 2022 with several incumbents involved in 'toss-up' races.
But there are two governors seeking reelection who – although they are favored to win another four years in office – have nonetheless seen each of their last two predecessors fall short of that goal.
This November, Alaska and Illinois could join a fairly small list of states which have had gubernatorial incumbents lose in three consecutive election cycles over the last half-century.
The last two cycles in Alaska have seen Republican Sean Parnell fall to independent Bill Walker in 2014 and Walker in turn lose to current GOP governor Mike Dunleavy (pictured above) dropping out of the race a fortnight before Election Day.
Dunleavy is not only facing a rematch with Walker in the state's new top-four primary system this November, but also Republican challengers from his right such as state Representative Christopher Kurka.
In Illinois, Democratic Governor Pat Quinn lost to businessman Bruce Rauner in 2014 and then Rauner was defeated by current Governor J.B. Pritzker four years later.
Pritzker has a fairly clear path to the nomination and will await the winner of a crowded GOP primary field.
During the last half-century, governors have been defeated in three consecutive cycles just four times including only once during the last 30 years:
Massachusetts: Republican Francis Sargent lost to Michael Dukakis in 1974, Dukakis lost the 1978 primary to Edward King, and King lost the 1982 primary to Dukakis
Texas: Democrat Dolph Briscoe was defeated in the 1978 primary by John Hill, Republican Bill Clements lost the 1982 general to Democrat Bill White, and White lost the 1986 rematch against Clements
Louisiana: Republican David Treen lost the 1983 jungle primary to former Democratic Governor Edwin Edwards, Edwards advanced from the 1987 primary but then withdrew to ensure the election of fellow Democrat Buddy Roemer, and Roemer (now a Republican) failed to advance from the 1991 primary eventually won by Edwards.
Alabama: Elevated Democratic Governor Jim Folsom lost to Republican Fob James in 1994, James was defeated by Democrat Don Siegelman in 1998, and Siegelman fell to Republican Bob Riley in 2002
Three other states have seen governors lose their bids for another term in three straight cycles overlapping part of the last half-century:
Alaska: Democrat William Egan (1966), elevated Republican Governor Keith Miller (1970), and Egan once again (1974)
Delaware: Democrat Charles Terry (1968), Republican Russell Peterson (1972), and Democrat Sherman Tribbitt (1976)
Illinois: Elevated Democratic Governor Samuel Shapiro (1968), Republican Richard Ogilvie (1972), and Democrat Daniel Walker (1976, primary)
Over the last 100+ years since 1914, there have been 21 instances of primary or general election voters knocking their gubernatorial incumbents out of office in at least three straight cycles.
The record during this span was set in Michigan with governors losing in six straight cycles: Republican Wilbur Brucker in 1932, Democrat William Comstock in 1934 (primary), Republican Frank Fitzgerald in 1936, Democrat Frank Murphy in 1938, Republican Luren Dickinson in 1940, and Democrat Murray Van Wagoner in 1942.
It has also happened in four consecutive cycles in Wisconsin (Republican Fred Zimmerman in 1928 (primary), Republican Walter Kohler in 1930 (primary), Republican Philip La Follette in 1932 (primary), and Democrat Albert Schmedeman in 1934) and New Mexico (Democrat John Simms in 1956, Republican Ed Mechem in 1958, Democrat John Burroughs in 1960, and Mechem again in 1962).
Incumbents fell in six out of eight cycles during a 14-year span in Wisconsin (1928, 1930, 1932, 1934, 1938, 1942) and during a 16-year period in Connecticut (1938, 1940, 1942, 1948, 1950, 1954).
Other states that saw incumbents lose three straight races include Arizona (1928, 1930, 1932), California (1922, 1926, 1930), Idaho (1938, 1940, 1942), Minnesota (1960, 1962, 1966), New York (1918, 1920, 1922), Oregon (1922, 1926, 1930), Rhode Island (1958, 1960, 1962), Washington (1940, 1944, 1948), and Wyoming (1954, 1958, 1962).
Follow Smart Politics on Twitter.