Minnesota's 1st CD Special Primary By the Numbers
History was made Tuesday with a record number of candidates on the ballot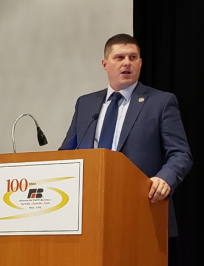 It'll be a few weeks before the results are finalized and certified, but there are some notable highlights coming out of Tuesday's special primary in Minnesota's 1st Congressional District.
The May 24th special primary was held approximately two and one-half months in advance of the August 9th special election to fill the vacancy after the passing of two-term Republican Jim Hagedorn.
Former Hormel executive Jeff Ettinger cruised to a 50+-point victory on the DFL side while former Republican state Representative Brad Finstad (pictured) eked out a narrow victory over sitting state Representative Jeremy Munson.
Here is a snapshot of the records and near records that were set…
Largest Primary Field in History
The Finstad-Munson battle was launched against the backdrop of the largest primary field in Minnesota U.S. House electoral history.
Ten Republicans appeared on the special primary ballot – besting the previous party record of nine set in 1940 when Fergus Falls farmer and minister Colvin Butler was nominated to face Farmer-Laborite Rep. R.T. Buckler in the 9th CD that November.
Meanwhile, the DFL also set a party record with eight candidates on the ballot on Tuesday, edging its previous high of seven candidates in 2006's 5th CD after Martin Sabo retired and Keith Ellison won with a plurality of 41.2 percent.
As a result, the combined number of major party primary candidates – 18 – crushed the previous state record of 11 set twice before in 1936's 5th CD and 1946's 3rd CD.
[Note: Grassroots-Legalize Cannabis and Legal Marijuana Now nominees – Haroun McClellan and Richard Reisdorf respectively – ran unopposed in their party's primary Tuesday].
Finstad's Narrow MoV
As the returns currently stand in the unofficial vote count, Finstad's 1.19-point victory over Munson is one of the closest primary races for the office in the state over the last 60 years.
Since 1960, only two other primary contests have been more narrowly decided: former Republican state Representative Bob Lemen defeated Warren Nelson by 0.13 points in 2000's 8th CD race and two years later Lemen won the rematch by 1.09 points.
Since the start of direct primary U.S. House elections in Minnesota in 1902, the 2022 1st CD special primary has the 15th smallest victory margin out of more than 915 primaries held for the office.
Finstad Falls Shy of 40 Percent
Due to the large GOP field and the strong showing by Munson, Finstad won only 38.1 percent of the vote en route to the nomination.
That marks the lowest percentage by a Minnesota U.S. House primary victor since 1970 when DFLer Blaine Lundeen won 36.5 percent in the 1st CD primary.
Only one other nominee has received less support than Finstad on primary day over the last 70 years: Republican Edward Willow received 36.7 percent in 1952's 3rd CD race.
Neither Lundeen nor Willow won the general election.
Overall, 39 Minnesota U.S. House candidates have won their party's primary with less than 40 percent of the vote since 1902.
The low water mark is held by the aforementioned Colvin Butler who won 22.0 percent in 1940's 9th CD in which five candidates received at least 11 percent of the vote.
[Note: This analysis sets aside the state's free-for-all 1932 primary cycle in which all nine Minnesota U.S. seats were elected at-large. A total of 35 Farmer-Laborites, 32 Republicans, and 21 Democrats appeared on the primary ballot with the top nine for each party moving on to the general election].
Follow Smart Politics on Twitter.