John Thune Rolls Despite Record-Tying Field
The 2022 race was just the second time in state history a South Dakota U.S. Senator faced more than one candidate in the primary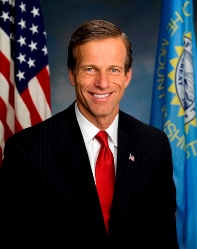 Few South Dakotans were likely surprised to see South Dakota Republican U.S. Senator John Thune easily win renomination on Tuesday night despite falling out of favor with former President Donald Trump for not challenging the 2020 Electoral College results.
Thune won by north of 50 percentage points over his closest competitor Bruce Whalen with approximately 72 percent of the GOP vote. Mark Mowry failed to reach double-digit support in third.
But while the outcome of the race may not be notable, the fact that two Republicans sought to challenge Thune in the first instance is.
Of the 27 times Republican and Democratic South Dakota U.S. Senators have run for another term, only twice has an incumbent faced more than one challenger, including Thune in 2022.
The only other instance came in 1932 when two-term Republican U.S. Senator Peter Norbeck also drew two primary opponents: South Dakota Chamber of Commerce president Harry Brownell of Sioux Falls and newspaperman Charles Hartsough.
Norbeck won 74.3 percent of the vote and defeated Brownell by 52.7 points – very similar to Thune's performance on Tuesday.
South Dakota incumbents have faced no primary opposition in 17 cycles and just one opponent in eight cycles.
Democratic U.S. Senators have drawn a primary opponent just once – in 1980 when George McGovern was challenged by former college math professor Larry Schumaker.
No incumbent has lost in the primary, with Republican Jim Abdnor having the closest call when he defeated Governor Bill Janklow by 9.0 points in 1986.
Follow Smart Politics on Twitter.