Pritzker Cruises to State Record in Illinois Primary
The Democrat appears to have recorded the most support in a contested primary by an Illinois governor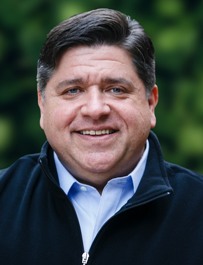 With Democratic Governor J.B. Pritzker's renomination never in doubt this cycle, his party's attention (and money) was freed up to help ensure he would face state Senator Darren Bailey this November rather than the more moderate GOP primary runner-up, Aurora Mayor Richard Irvin.
With a few counties yet to report, Pritzker won approximately 91.5 of the Democratic primary vote against nurse and U.S. Army veteran Beverly Miles.
It thus appears Pritzker's runaway win will go down in the Illinois history books as the best showing by an incumbent governor facing a primary challenge in state history.
Prior to this cycle, only one other Illinois governor had eclipsed the 90 percent mark in their renomination bid. In 1986, Jim Thompson claimed 90.9 percent of the GOP primary vote en route to his fourth term.
Just two other governors had reached 80 percent in a primary – Republicans Dwight Green in 1944 (86.2 percent) and Thompson in 1982 (83.8 percent).
Illinois governors had averaged 62.5 percent across the previous 18 instances in which incumbents had faced primary opposition since the state's first primary for the office in 1908.
Five Illinois governors have run unopposed for their party's nomination during this span: Republican Dwight Green in 1948, Democrat Adlai Stevenson II in 1952, Democrat Otto Kerner in 1964, elevated Democratic Governor Samuel Shapiro in 1968, and Republican Jim Thompson in 1978.
Just two governors in the state have failed to win their party's nomination since 1908: Republican Lee Small in 1928 (losing to Secretary of State Louis Emerson) and Democrat Dan Walker in 1976 (losing to Secretary of State Michael Howlett).
Not only was GOP runner-up Mayor Irvin highly critical of the Democratic Party 'meddling' in the GOP primary, but the party also raised eyebrows from skeptics who question the general electoral calculus that getting more conservative or controversial Republican candidates nominated would spell an easier pathway to victory for Democrats this November.
Democrats are looking to win the governorship in Illinois for the fifth time in six cycles this November for just the second time in party history. The party won five elections for governor in a row from 1838 to 1852.
Follow Smart Politics on Twitter.