Will Any Presidential Candidates Kick Off Their Campaigns This Year?
Approximately five percent of presidential candidates over the last half-century have launched their campaigns in the year of the midterm or earlier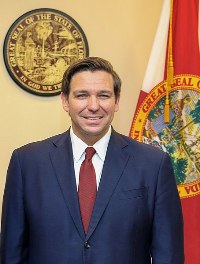 New horse race national surveys of registered Republican voters released this week by POLITICO/Morning Consult and New York Times/Siena both show Donald Trump hovering around 50 percent support and only one other GOP candidate in double-digits – Florida Governor Ron DeSantis (pictured). At this point, however, there is only speculation that the former president will seek to return to his old post.
On the Democratic side, President Joe Biden has stated he plans to run for another term, but low public approval ratings, an expected midterm disaster for his party, and apparent tepid party support for a 2024 candidacy suggests he might be pressured to do otherwise, despite a perceived thin Democratic bench.
All the while, no establishment Republican or Democrat has officially announced their candidacy for the White House, with just over 18 months until the (presumed) primary season start with the Iowa caucuses in late January.
To be sure, even in a normal election cycle, the vast majority of presidential hopefuls do not announce their candidacies until the year prior to the election.
Out of the more than 200 'establishment' (i.e. non-fringe) presidential candidacies since 1972, more than 94 percent did not launch their campaigns until at least the year after the midterm cycle.
That said, there have been about a dozen early birds who got in early, including seven since 2008.
In the 1976 cycle, two Democrats hit the ground running in late 1974.
Arizona U.S. Representative Mo Udall announced on November 23, 1974 and former Georgia Governor Jimmy Carter did so on December 12th.
Udall carried a few states and remained in the race through the Democratic National Convention where he placed second to Carter with 330 delegates. [Carter is the only true early bird to win the presidency].
The 1980 cycle saw Illinois Republican U.S. Representative Phil Crane enter the race on August 2, 1978 – 27 months before Election Day.
Crane's campaign never gained much traction but he nonetheless outlasted Connecticut's Lowell Weicker, South Dakota's Larry Pressler, Tennessee's Howard Baker, Texas' John Connally, and Kansas' Bob Dole at the time of his withdrawal from the race on April 17, 1980.
During the next six presidential election cycles (1984 through 2004), only one candidate jumped into the race in the year of the midterm (or earlier).
Former Delaware Governor Pete du Pont announced his 1988 campaign on September 16, 1986, but was the second Republican to drop out – less than a week after former Secretary of State Alexander Haig – on February 18, 1988.
The 2008 cycle saw four of the nine Democratic candidates announce their presidential campaigns in 2006: former Alaska U.S. Senator Mike Gravel on April 17th, former Iowa Governor Tom Vilsack on November 30th, Ohio U.S. Representative Dennis Kucinich on December 11th, and former North Carolina U.S. Senator John Edwards on December 28th.
In 2020, Maryland Democratic U.S. Representative John Delaney recorded the earliest start to a presidential campaign by an establishment candidate in the modern primary era with his July 28, 2017 launch.
Fellow Democrat Andrew Yang followed a few months later on November 6th of that year and West Virginia State Senator Richard Ojeda announced on November 11, 2018.
[Note: President Donald Trump also filed paperwork for his 2020 candidacy on the day of his inauguration, January 20, 2017].
Perhaps candidates are also waiting for the midterms to officially shake out before entering the fray (DeSantis is running for reelection after all). If so, perhaps the first name(s) will drop in November or December of this year.
Follow Smart Politics on Twitter.