Hofmeister Could Land Historic Win in Oklahoma
Democrats have never won the Sooner State governorship without additional executive offices down the ballot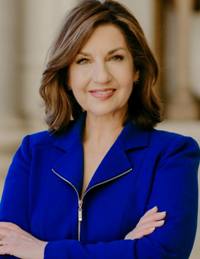 Although most prognosticators still list Oklahoma's 2022 gubernatorial election as a likely hold for the GOP, public polling suggests Republican-turned-Democrat Oklahoma Superintendent of Public Instruction Joy Hofmeister continues to remain very competitive in her contest with Governor Kevin Stitt.
Hofmeister isn't the only ex-Republican in the race with former GOP State Senator Ervin Yen running as an independent. Libertarian nominee Natalie Bruno is the fourth candidate on the ballot.
A victory for Hofmeister, who has held a narrow lead throughout polling this month, would perhaps be the most unexpected gubernatorial gain for Democrats as the party entered the 2022 cycle 22 months ago.
Hofmeister is hardly riding a Democratic wave nationally or in Oklahoma as she tries to flip a seat in a state that has elected Republicans in each of the last 28 statewide elections since 2008 (plus 10 more to federal offices during this period).
In fact, Democrats are expected to lose most of the remaining seven races for executive offices handily next month. The party did not even field nominees in the races for Auditor & Inspector, Attorney General, and Insurance Commissioner.
However, the Democratic nominee for Superintendent of Public Instruction, schoolteacher Jena Nelson, is running a competitive race against Oklahoma Education Secretary Ryan Walters. Nelson, a recent Oklahoma Teacher of the Year winner, has led by single digits in most public polling.
But in the event Hofmeister unseats Stitt and Nelson loses in three weeks, it would mark the first time in Oklahoma history that the Democratic Party would win the governorship and no other executive offices.
Democrats, of course, dominated state politics in Oklahoma from statehood through the 1950s, only losing a few elections for seats on the Corporation Commission along the way (1920, 1928).
Democrats did not lose a race for the other executive offices for decades:
Governor in 1962 (Henry Bellmon)
Commissioner of Labor in 1966 (L.E. Bailey)
Attorney General in 1966 (G.T. Blankenship)
State Auditor & Inspector in 1978 (Tom Daxon), only after the merger of the offices of State Audtior and State Examiner & Inspector which Democrats had each previously swept
Treasurer in 1990 (Claudette Henry)
Lieutenant Governor in 1994 (Mary Fallin)
Insurance Commissioner in 1994 (John Crawford)
Superintendent of Public Instruction in 2010 (Janet Barresi)
Secretary of State (never lost while it was an elected office prior to 1979)
Democratic gubernatorial victories over the last half-century have always been accompanied by additional success stories down the ballot:
1970 (David Hall): swept all other executive offices
1974 (David Boren): swept all offices
1978 (George Nigh): won all except Auditor & Inspector
1982 (George Nigh): swept all offices
1990 (David Walters): won all except Treasurer and Corporation Commissioner
2002 (Brad Henry): won all except Lieutenant Governor, Commissioner of Labor, and Corporation Commissioner
2006 (Brad Henry): won all except Corporation Commissioner
Overall, every cycle in which a Democrat has won the governorship in Oklahoma since statehood also found at least five other Democrats winning executive offices down the ballot.
Although Democratic gubernatorial nominees in Georgia (Stacey Abrams), Florida (Charlie Crist), and Texas (Beto O'Rourke) may have garnered the early hype this cycle, eyes may eventually turn to Oklahoma for the most competitive race for governor in the South on Election Day.
Follow Smart Politics on Twitter.