Try, Try Again: A Brief History of Rematches in Minnesota's US House Elections
Only seven of 56 congressional rematch challenges between major party nominees have been successful since the DFL merger in 1944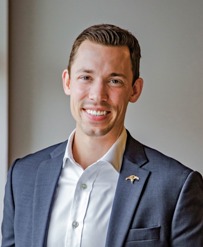 For the sixth consecutive election cycle, some Minnesota voters will experience déjà vu at the ballot box in races for the U.S. House of Representatives.
Voters in two congressional districts will get to choose between major party nominees squaring off for a second time.
Newly-minted GOP Rep. Brad Finstad faces DFL nominee Jeff Ettinger in the 1st CD – three months after a narrow 3.9-point decision in August's special election to fill the late Jim Hagedorn's seat.
Next door in the 2nd CD, two-term incumbent Angie Craig is being challenged once again by Republican Tyler Kistner (pictured) two years after he fell 2.3 points short of unseating the congresswoman.
Minnesota has averaged 1.4 U.S. House rematch elections over the last 80+ cycles since statehood and has hosted 29 rematches across the last 17 election cycles since 1990 (with 2006 and 2010 the only cycles not featuring such a contest during this stretch).
However, only three of these attempts since 1990 were successful:
1990 (7th CD): DFLer Collin Peterson defeated Arlan Stangeland in his third attempt (losing by 14.1 points in 1984 and 0.06 points in 1986 – the second closest race for the office in Minnesota history)
2002 (2nd CD): Republican John Kline turned 4.0 and 2.6-point losses to Bill Luther in the 6th CD in 1998 and 2000 respectively into an 11.1-point victory the third time around in the newly drawn 2nd CD
2018 (2nd CD): DFLer Angie Craig lost an open seat race by 1.8 points to Jason Lewis in 2016 but came back to oust the freshman lawmaker by 5.5 points two years later
Overall, there have been 111 rematches by major party candidates across the 606 general elections to the chamber in Gopher State history (excluding the 1932 cycle in which all nine members of the chamber were elected in a single at-large election).
Heading into the 2022 cycle, just 16 of the previous 109 attempts were successful, or approximately one in seven, including just seven of 56 challengers since the DFL merger in 1944 (12.5 percent).
While those are not rosy odds for the two challengers getting a second chance in 2022, the well-funded Kistner is considered to be in the tightest U.S. House race in the state in what is sure to be another low single-digit decision.
In addition to the aforementioned three rematch winners since 1990, the remaining four during the DFL era are:
1944 (3rd CD): DFLer William Gallagher defeated two-term Republican Richard Gale by 1.8 points after a third place showing and 30.9-point loss as a Democrat in 1942
1948 (3rd CD): DFLer Roy Wier beat freshman GOPer George MacKinnon by 9.2 points after lo sing by 4.2 points in 1946
1970 (7th CD): DFLer Bob Bergland defeated six-term Republican Odin Langen by 8.2 points after a 2.4-point loss in 1968
1982 (6th CD): DFLer Gerry Sikorski beat two-term GOPer Arlen Erdahl following a 13.7-point defeat in the 1st CD four years prior in 1978
Victorious challengers in rematches prior to the DFL merger were:
1859 (At-large): Republican Cyrus Aldrich defeated freshman Democrat James Cavanaugh to win one of two at-large seats on a single ballot after coming up short in the previous cycle
1880 (2nd CD): Former Republican Congressman Horace Strait beat freshman Democrat Henry Poehler by 13.4 points to win back his seat after enduring a 2.5-point loss in 1878
1894 (3rd CD): Republican Joel Heatwole unseated two-term Democrat Osee Hall by 13.4 points one cycle after coming up 3.3 points short in 1892
1906 (2nd CD): Democrat Winfield Hammond beat seven-term Republican James McCleary by 4.0 points some 14 years losing an open seat race to him by 18.4 points in 1892
1922 (7th CD): Independent Ole Kvale knocked 10-term GOPer Andrew Volstead out of office with a decisive 19.4-point win after narrowly losing by 1.9 points in 1920
1926 (8th CD): Farmer-Laborite William Carrs defeated two-term Republican Oscar Larson by 1.4 points after failing to beat him as a Democrat in 1920 (by 1.6 points) and 1922 (by 6.0 points)
1938 (7th CD): Republican H. Carl Anderson beat five-term Farmer-Laborite Paul Kvale by 5.9 points after a 16.9-point loss in 1936
1938 (8th CD): Former Congressman William Pittenger took his seat back from freshman Farmer-Laborite Paul Bernard with a 10.4-point win after seeing his second stint in the chamber come to an end with a 12.8-point loss in 1936
1940 (2nd CD): Republican Joseph O'Hara defeated three-term Democrat Elmer Ryan by 6.5 points following a 7.7-point loss in 1938
Each of the last five elections in Minnesota's 1st CD were decided by less than 10 points with each of the last three decided by single digits in the 2nd CD.
Follow Smart Politics on Twitter.