DeSantis, Gordon, Green Set Gubernatorial Records
Major party records fall in Florida, Hawaii, and Wyoming this cycle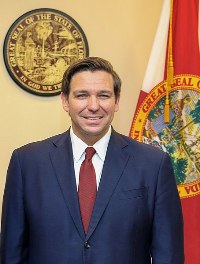 Florida Governor Ron DeSantis is not lacking for positive press coming out of the 2022 midterms in which he cruised to an easy victory and saw his party pick up several legislative seats in the state.
In fact, DeSantis' victory was so strong that he set a state Republican record along the way.
DeSantis won 59.4 percent of the vote – the largest ever for a GOP gubernatorial nominee in Florida history.
Governor DeSantis just eclipsed the 59.1 percent won by Florida postal agent Harrison Reed in 1868.
Outside of the Reconstruction era, the previous best showing by a Republican nominee for the office was Jeb Bush's 56.0 percent while winning a second term in 2002.
DeSantis also easily recorded the largest victory margin by a GOP gubernatorial nominee in Florida outside of Reconstruction with his 19.4-point rout over former Governor Charlie Crist, besting Bush's 12.9-point win over Bill McBride in 2002.
In addition to DeSantis, two other gubernatorial nominees set new high water marks for their party, as well as their state, on November 8th.
In deep red Wyoming, incumbent Mark Gordon won 74.1 percent – the first time any candidate eclipsed the 70 percent mark in a race for governor in the Cowboy State.
Gordon broke his own record set four years prior when he won his first term with 67.1 percent of the vote.
Matthew Mead (65.7 percent in 2010), Stanley Hathaway (62.8 percent, 1970), and Bryant Brooks (60.2 percent, 1906) are the only other GOP nominees for governor to win at least 60 percent since statehood.
Democrat Dave Freudenthal held the previous high water mark in Wyoming when he won 69.99 percent in 2006.
Meanwhile, in deep blue Hawaii, Lieutenant Governor Josh Green held term-limited Governor David Ige's seat for the Democrats with 63.2 percent – notching both party and state records.
Green just eclipsed the 62.7 percent won by his predecessor Ige in 2018.
However, the 26.4-point victory by Green over former Lieutenant Governor Duke Aiona was not a state record. Ige won reelection in 2018 by 29.0 points.
Follow Smart Politics on Twitter.