Kyrsten Sinema and a Brief History of US Senators Placing 3rd (Or Worse)
Fewer than 10 incumbents from the nation's upper legislative chamber have placed outside of the top two candidates on the general election ballot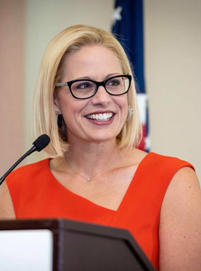 When Arizona U.S. Senator Kyrsten Sinema announced she had switched her partisan affiliation from Democratic to independent on Friday, speculations on how that decision would impact her (likely) 2024 reelection bid ran the gamut.
Would the move cause a split in the Democratic vote to enable a GOP nominee to win the seat? Will Arizona's substantial independent-identifying electorate give Sinema a chance to win a second term?
It seems a case could be made that Sinema could place first, second, or third should she decide to run for another term in two years in the purple state.
There are certainly a number of examples over the last 100+ years of independents or third parties winning U.S. Senate seats including two currently seated in the chamber. But how rare is it for a sitting U.S. Senator to end up in third place?
Smart Politics reviewed the more than 270 instances since 1914 in which a sitting U.S. Senator was defeated in a general or special election and found that the incumbent failed to finish first or second in only eight cases.
The most recent example took place more than 40 years ago when four-term New York Republican Jacob Javits lost his renomination bid to Al D'Amato.
Javits did secure the nomination of the Liberal Party but finished in third that November with 11.0 percent behind D'Amato and Democratic U.S. Representative Elizabeth Holtzman.
New York is the only state to see two of its U.S. Senators fail to place among the top two candidates.
In 1968, Republican Charles Goodell was appointed to the chamber following the assassination of Democrat Bobby Kennedy.
Goodell easily won the GOP nomination in 1970 but his 24.3 percent that November trailed both Conservative nominee James Buckley (38.8 percent) and Democrat Richard Ottinger (36.8 percent).
Goodell is one of two U.S. Senate incumbents who placed third while running as a major party nominee, joining Wisconsin Democrat F. Ryan Duffy in 1938.
Duffy rode FDR's coattails in 1932 winning 57.0 percent of the vote, but the GOP-friendly 1938 cycle saw the incumbent's support dwindle by more than half with 24.7 percent. Duffy was bested by both Republican attorney Alexander Willey (47.7 percent) and former GOP Assembly Speaker, Commissioner of Insurance, and Attorney General turned Progressive nominee Herman Ekern (26.6 percent).
Five other U.S. Senators have finished third or worse in general elections:
1920, Colorado Democrat Charles Thomas (4th place, 3.0 percent): Thomas did not run in the Democratic primary but secured the National Party nomination. Thomas lost the general election to Republican mining executive Samuel Nicholson (54.5 percent) and also ran behind Democratic state Supreme Court Justice and former state Senator Tully Scott (39.3 percent) and Farmer-Labor nominee G.F. Stevens (3.2 percent).
1926, Oregon Republican Robert Stanfield (3rd place, 22.5 percent): Stanfield lost the GOP primary to state Senator Frederick Steiwer by 8.5 points in an eight-candidate field. He appeared on the general election ballot as an independent and lost to both Steiwer and Democrat Bert Haney, a former member of the U.S. Shipping Board.
1932, Iowa Republican Smith Brookhart (3rd place, 4.3 percent): Brookhart lost the six-candidate GOP primary to farmer and radio station owner Henry Field. The incumbent ran as a Progressive in the general election and lost to Field and the victorious Democrat, Richard Murphy – a former journalist and income tax counselor.
1968, Alaska Democrat Ernest Gruening (3rd place, 17.4 percent): Gruening lost an open primary to former Democratic state House Speaker Mike Gravel. Gruening launched a write-in campaign that November, but ran third behind Gravel and Republican banker Elmer Rasmuson.
1970, Connecticut Democrat Thomas Dodd (3rd place, 24.5 percent): Dodd did not seek his party's nomination for a third term but instead ran as an independent. He lost to Republican Lowell Weicker and Democrat Joe Duffey.
Arizona Democrats have won three consecutive U.S. Senate elections for the first time since the party won 10 in a row from 1922 to 1950.
Follow Smart Politics on Twitter.