Tom Emmer Is 4th Minnesotan to Serve In US House Leadership Post
The 6th District Congressman is the first from the state elected to a leadership position in the chamber in 100 years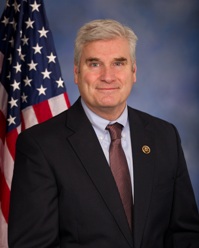 Following the election of Kevin McCarthy as Speaker of the U.S. House late last week, Minnesota Republican U.S. Representative Tom Emmer officially became the Majority Whip of the chamber.
Emmer, who was elected by his conference to the position in late November, ascended to this leadership slot after winning reelection to a fifth term earlier that month.
Of the 143 Minnesotans to serve as U.S. Representative from the Gopher State, Rep. Emmer joins just three others to hold a Democratic or Republican leadership post.
To date, all four of these U.S. House party leaders from Minnesota have been Republicans.
Winona's James Tawney was the first.
Like Emmer, Tawney first served in the state legislature (State Senator, 1891-1893), and was elected to the state's 1st CD in 1892.
After winning election to a third term in 1896, Tawney became the House Majority Whip – the first individual to hold the newly created position in the legislative body. [Democrats elected their first whip two years later].
Tawney was the GOP Whip for the 55th through the 58th Congresses (1897-1905).
Rep. Tawney would go on to serve nine terms in the U.S. House, but in September 1910 he became the first Minnesota U.S. Representative to be defeated in a primary – losing to Lanesboro attorney Sydney Anderson by 11.6 points.
At the close of the decade, St. Cloud newspaperman Harold Knutson became Majority Whip for the 66th and 67th Congresses (1919-1923).
Knutson had been elected to only his second term from the 6th CD in 1918 when he replaced New York Republican Charles Hamilton as Whip. Hamilton retired from the chamber that cycle.
While Knutson would serve only two terms as Whip, he would ultimately serve 16 terms in the chamber (1917-1949) before losing election in 1948 to DFL Grove City farmer Fred Marshall.
The aforementioned Sydney Anderson is the fourth Minnesotan to serve in leadership in the U.S. House.
Twelve years after defeating Tawney in the 1st CD GOP primary, Anderson was named Republican Conference Chairman for the 68th Congress (1923-1925) replacing Iowa's Horace Towner.
Anderson did not run for an eighth term in 1924.
No Democrats or DFLers have held leadership positions in the U.S. House from Minnesota and no member of the state's congressional delegation has served as Speaker of the House, Majority Leader, or Minority Leader.
Follow Smart Politics on Twitter.