A Record Out of Reach? Dianne Feinstein to Retire with Most Votes in US Senate Electoral History
The long-serving senator exits with nearly 13 million more votes cast for her than any other candidate for the office since 1913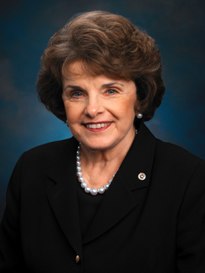 California Democratic U.S. Senator Dianne Feinstein's recent announcement that she would not seek a seventh term in 2024 means her electoral numbers are now set in stone.
Feinstein will leave the chamber having received 34,725,660 votes in U.S. Senate general and special elections. [Note: primary elections were not included in this tally].
California's senior senator first held this record after winning her third term in 2000 but flip-flopped with her then fellow delegation member Barbara Boxer who held the mark for two years after her 2004 and 2010 victories.
Feinstein has now appeared in the top slot without interruption since winning her fifth term in 2012 and has amassed nearly twice as many votes as the next sitting member of the chamber: New York Democrat Chuck Schumer (18,910,528).
It hardly needs to be mentioned that this record is not a measure of relative popularity between U.S. Senators. Membership on the all-time vote list is determined by a variety of factors such as 1) political longevity, 2) winning elections by large margins, 3) representing states with high voter turnout, and, most importantly, 4) representing states with large voting age populations.
As such, the appearance of two long-serving (and recently serving) California U.S. Senators at the top of this list should not be surprising given the Golden State's relatively large population compared to other states at this point in history. Such candidates can quickly amass a large number of votes.
For example, fellow California Democratic Senator Alex Padilla, who has served only 761 days in the chamber (2 years, 1 month) is already 11h in all-time votes received in U.S. Senate contests.
Padilla won 13,180,919 votes last November in his special and general election contests to the state's Class III seat.
Meanwhile, Iowa Republican Chuck Grassley won his eighth term to the chamber last November and ranks just outside the Top 50 in all-time votes with 6,184,033.
And recently retired eight-term Democrat Patrick Leahy from the sparsely-populated Vermont barely won a million votes (1,168,753) during the entirety of his senate career.
Boxer retired in 2016 in second place on the list with 21,759,341 votes. Schumer would be the next senator to pass her, but not until 2028 if he ran for a sixth term.
Rounding out the Top 10 all-time vote-getters are:
#4: California Democrat Alan Cranston (15,725,583)
#5: Texas Republican John Cornyn (15,658,226)
#6: Florida Democrat Bill Nelson (14,492,958)
#7: Massachusetts Democrat Ted Kennedy (13,403,673)
#8: New York Democrat Daniel Patrick Moynihan (13,349,930)
#9: Illinois Democrat Dick Durbin (13,309,571)
#10: New York Republican Jacob Javits (13,270,854)
Nelson and Javits are the only senator in the Top 15 who exited the chamber with a general election loss.
Six additional sitting and former members of the nation's upper legislative chamber have cumulatively won more than 10 million votes as U.S. Senate candidates:
#12: Michigan Democrat Carl Levin (12,002,515)
#13: Florida Republican Marco Rubio (11,955,781)
#14: New York Democrat Kirsten Gillibrand (11,715,622)
#15: Pennsylvania Republican-turned-Democrat Arlen Specter (11,234,326)
#16: Texas Republican Kay Bailey Hutchison (10,536,814)
#17: New York Republican Al D'Amato (10,303,831)
D'Amato is the only other senator in the Top 20 to lose his last general election (falling in 1998 to Schumer). [Specter was defeated in his last primary in 2010].
Other sitting U.S. Senators in the Top 50 include Michigan Democrat Debbie Stabenow (#20; 9,163,534), Washington Democrat Patty Murray (#23; 8,821,601), Texas Republican Ted Cruz (#24; 8,700,690), Pennsylvania Democrat Bob Casey (#29; 8,207,785), and Ohio Democrat Sherrod Brown (#37; 7,378,567).
Follow Smart Politics on Twitter.