Democrats and Republicans Have Record US Senate Winning Streaks in 26 States
Three additional states could be added to the list in 2024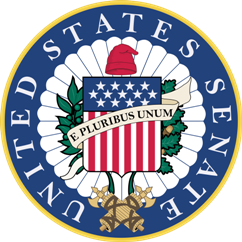 The 2022 election cycle saw only one U.S. Senate seat flip (Pennsylvania, to the Democrats) and as a result, more than a dozen of the longest partisan electoral streaks were extended once again in states across the nation.
Democrats padded their all-time records with victories in Hawaii (19 consecutive wins), Maryland (14), California (13), New York (11), Oregon (7), and New Hampshire (4).
The party also tied its best mark with the aforementioned win in Pennsylvania (two in a row) as well as in Vermont (one).
Republicans, meanwhile, extended their winning ways in U.S. Senate contests in Kansas (33 in a row), Utah (17), Idaho (16), Oklahoma (14), Kentucky (10), South Carolina (9), Arkansas (5), Louisiana (5), North Carolina (5), and Florida (3).
As a result, the two major parties are currently in the midst of their longest respective winning streaks in more than half the states across the country: 15 for the Republicans and 11 for the Democrats.
In 2024, a half-dozen more partisan records for the office can be broken or tied.
In Washington, Senator Maria Cantwell can extend the Democratic streak to 10 in a row since 1998 – tying a party mark first set from 1950 through 1976 when Warren Magnuson and Scoop Jackson traded victories.
In Minnesota, DFL Senator Amy Klobuchar looks to give her party its eighth consecutive victory since 2006, which would equal the party's record set from 1954 to 1976 when Hubert Humphrey, Eugene McCarthy, and Walter Mondale combined for eight straight wins.
Pennsylvania Democrats can win three U.S. Senate elections in a row for the first time in party history next year behind incumbent Bob Casey who is seeking a fourth term. The party last won back-to-back races in 1940 and 1944 – a mark equaled with wins by Casey in 2018 and John Fetterman last November.
In West Virginia, Republicans are hopeful Joe Manchin either retires or one member of the party's deep bench can knock off the conservative Democrat to tie a mark achieved on three previous occasions. The West Virginia GOP recorded two consecutive victories in 1916-1918, 1924-1928, and in 1942).
If Montana Republicans unseat Jon Tester (who recently announced he would seek a fourth term), it would mark the first time in state history the party won back-to-back elections. The GOP also won U.S. Senate seats in 1946, 1988, 1994, 2000, 2014, and 2020. Montana is one of just two states in which the GOP has never won back-to-back U.S. Senate elections (along with Hawaii).
Lastly, and however unlikely, should Bernie Sanders decide not to seek a fourth term in Vermont, Democrats would be poised to win two elections in a row there for the first time in state history. The independent U.S. Senator has stated he does not plan to run for president and shows no signs of shying away from another term, although he has not officially declared his intentions.  Democrats have opted not to run a stand-alone nominee against Sanders during his previous three senate bids.
Vermont is one of three states in which Democrats have never won back-to-back contests (along with Idaho and Kansas).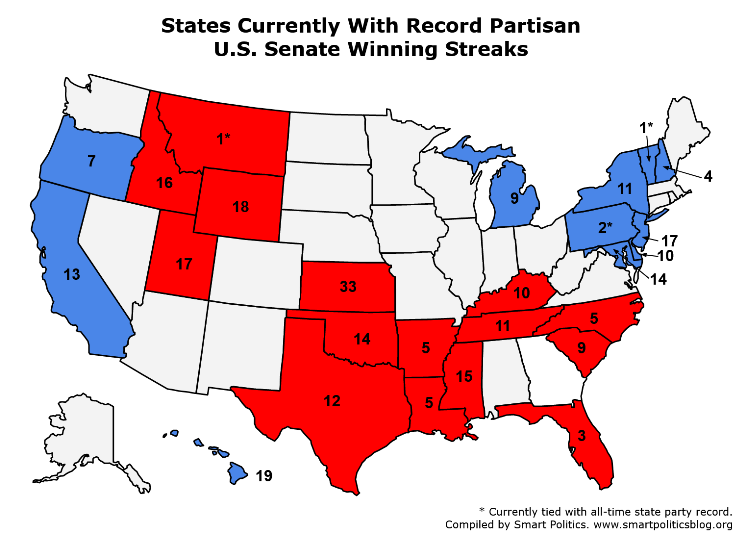 It should be noted that the GOP win by Senator Jerry Moran in Kansas in 2022 tied the all-time partisan winning streak in the direct election era with the 33 straight wins Democrats notched in Louisiana from 1914 through 2002.
Follow Smart Politics on Twitter.