Beshear Sets Record: Kentucky Gubernatorial Primary By the Numbers
The Democrat received the largest support in a contested gubernatorial primary in state history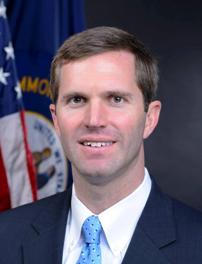 While there was not much drama at the top of the ticket in Kentucky's primary on Tuesday, multiple state records were set at the ballot box.
On the Democratic side, there was no doubt Governor Andy Beshear would cruise to renomination – and he did so in record fashion.
The popular red state governor received 91.9 percent of the primary vote – the best ever showing in a contested gubernatorial primary in Kentucky history.
Beshear was opposed by two candidates – perennial candidate Geoff Young won 4.9 percent and former 1999 GOP gubernatorial nominee Peppy Martin garnered only 3.2 percent.
The state's previous high water mark was held by Republican Edwin Morrow who won 88.6 percent in 1915's two-candidate race. Morrow, who would later win the governorship in 1919, was an attorney and former U.S. District Attorney for the Eastern District of Kentucky.
The previous best showing in a primary by a Democrat was Jack Conway's 78.8 percent in 2015 in a two-candidate field against the aforementioned Geoff Young.
Just five major party nominees for governor in Kentucky won their nominations without opposition – incumbent Democrats J.C.W. Beckham in 1903, Paul Patton in 1999, and Steve Beshear in 2011 and Republicans Edwin Morrow in 1919 and Simeon Willis in 1943.
On the Republican side of the ballot, a state record 12 candidates sought the party's nomination with Attorney General Daniel Cameron cruising to a 25-point victory over two-term state Agriculture Commissioner Ryan Quarles.
The 2023 GOP field was twice as large as the previous party record of six set in 1983 when State Senator and ex-baseball star Jim Bunning was nominated.
Democrats once fielded 10 candidates for the office back in 1967 when former state legislator Henry Ward defeated former Governor Happy Chandler and eight other hopefuls.
Given that a dozen candidates were on the Republican ballot yesterday, it should not be surprising that Cameron failed to win a majority of the vote – receiving 46.9 percent.
But that still goes in the books as the third lowest support in a primary registered by a Kentucky GOP gubernatorial nominee out of 26 contests, ahead of only the 32.9 percent won by Matt Bevin in 2015 and 41.4 percent recorded by State Representative John Harper in 1987.
Bevin would win the governorship against Jack Conway while Harper lost the subsequent general election to Wallace Wilkinson by nearly 30 points.
Follow Smart Politics on Twitter.